Sometimes the most simple recipes are the best! Do you glance at a recipe and move on when you see a super long list of weird ingredients not to mention weird kitchen instruments you have never heard of? If I'm trying to find recipe inspiration, I tend to skim to something more basic, a recipe where I can taste the list of ingredients. (And totally tell what ingredients I would swap and change!)
As an appetizer, brunch pastry, or dessert, these cherry goat cheese pastries are simply perfect! I hope you enjoy them as much as we do!
Cherry Goat Cheese Pastry
Makes 6 servings
Ingredients:
2 sheets frozen puff pastry -1 roll fillo dough- fillo shells already cooked
10 oz. crumbled goat cheese
1 lb. fresh cherries, pitted and quartered mixed with 2 tbsp. sugar and 1 tsp. lemon juice OR 1 21oz. can cherry pie filling
1 large egg yolk
2 tsp. heavy cream
Granulated sugar for sprinkling
Directions:
Preheat oven to 400 degrees.
Pit and quarter your fresh cherries and mix with sugar and lemon juice Set aside until juice thickens.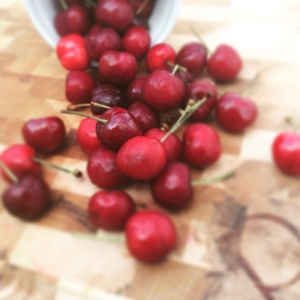 Flour work surface and lightly roll out puff pastry to be 1/2″ longer on all sides.
Cut dough into an even number of squares or circles.
Divide the cherry filling and goat cheese evenly and place on half of the shapes.
Cover with another shape. press sides and pinch to close.
Beat egg and heavy cream together and brush to seal and coat top of pastry.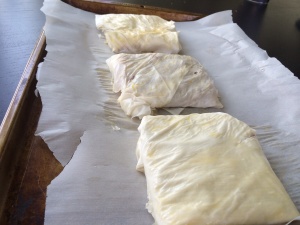 (If using Fillo dough, keep dough damp so it doesn't dry up. Fill, cut into rectangles and fold like a present. Brush with egg mixture to keep closed. )
SUPER EASY BUTTON!! (If using Fillo shells, just fill with cherry and goat cheese filling and bake to melt until golden and bubbly.)
Slice 2 slits on the top and sprinkle with sugar.
Place on a baking sheet lined with parchment paper.
Bake for 20-25 mins. until golden brown and puffy.
Don't burn your mouth! Let cool for 5-10 minutes before serving.
For dessert, I topped my pastry with ice cream, whipped cream, and chocolate syrup!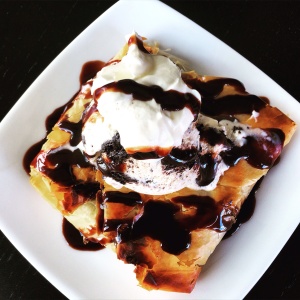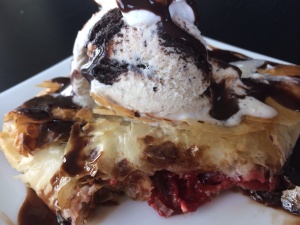 Enjoy!
Ciao!