I love a butter toffee crunch! My favorite salad is mixed greens, dried cranberries, crumbled goat cheese, and butter toffee pecans. I incorporated them into a simple chocolate chip cookie recipe and the results are totally delish!!
Not a fan of a nutty bite? Grind the pecans down instead of a coarse chop for a smooth finish.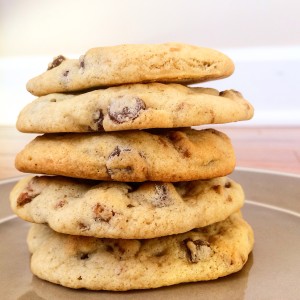 Butter Toffee Pecan Chocolate Chip Cookies
(makes 3 dozen 2 inch cookies)
Ingredients:
2 cups flour
1 tsp. baking soda
pinch of salt
1 cup unsalted butter
1/2 cup sugar
1/2 cup light brown sugar
1 tsp. vanilla extract
2 eggs
2 cups chocolate chips
1 cup coarse chopped butter toffee pecans
Directions:
Preheat oven to 350 degrees.
Using a mixer, cream butter and sugar.
Add eggs, baking soda, salt, and vanilla and mix on low until incorporated.
Slowly add in flour until dough forms.
Mix in chocolate chips and pecans with a wooden spoon. Mix well so each scoop contains chips and pecans.
Drop by teaspoonfuls, 2 inches apart, onto a parchment lined cookie sheet.
Bake 12-15 minutes until golden brown.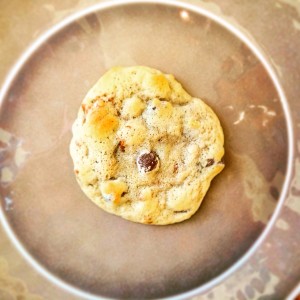 Enjoy!
Ciao!