So I guess I didn't realize it until today, but we really looooove breakfast in our house! The kids and I, that is. When Kevin is long gone for work we whip up pancakes, french toast, crepes, frittatas, bacon, sausage, and all the fixings.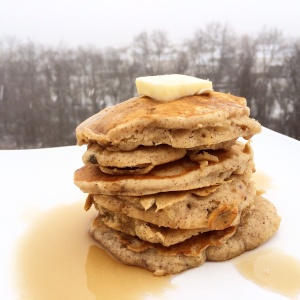 Today was a snowy morning and we needed the comforts of a sweet and delicious breakfast to get us moving. Our Winter WarmUp Breakfast of choice? Banana Bread Pancakes! They warmed our bellies and made us smile! Try them!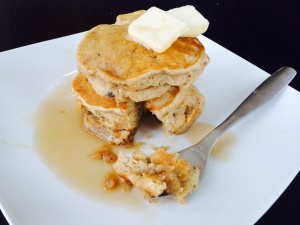 Banana Bread Pancakes
Makes 6-8 pancakes
Ingredients:
2 bananas, ripe and smashed
1 cup whole wheat flour
1 tsp. baking powder
1 tsp. ground nutmeg
2 tbsp. brown sugar
2 tbsp. sugar
1 tbsp. cinnamon
1/2 tbsp. vanilla extract
1/3 cup milk
butter and maple syrup
Directions:
In a mixing bowl combine flour, baking powder, nutmeg, brown sugar, sugar, and cinnamon and stir.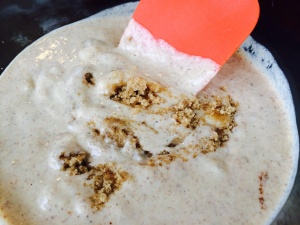 Add mashed bananas.
Add in vanilla and milk.
Whisk until well combined. If mixture is too thick add a little more milk and stir.
Heat a frying pan and add a pat of butter.
Use a 1/3 cup measuring cup of mixture and drop onto pan.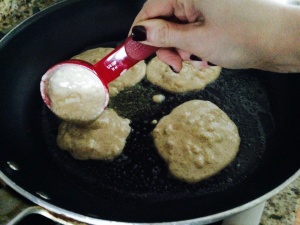 Cook until batter bubbles and flip.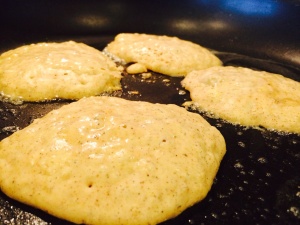 Cook until pancakes are done on the bottom and cooked through.
Remove from pan. Add butter and your favorite maple syrup.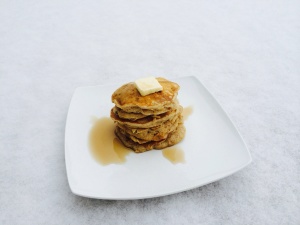 Enjoy!
Ciao!