---
Summer food is the best! Grilling anything definitely feels like summer. Dishes paired with cold salads make refreshing dinners on the deck! The issue ends up being prep time. I end up making fast meals because we are swimming or playing outside too long.
For the whiskey brown sugar chicken, I used the slow cooker. A home chef's (busy mom's) secret weapon for these sorts of dishes, the slow cooker is perfect for fall-off-the-bone meats with infused flavors, not to mention I feel safe leaving the house while it is cooking away!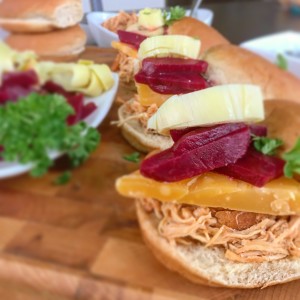 You think I am the Parmesan Princess? Well, I am the sweet and savory queen! Seriously, I cannot get enough- so it is no surprise that every ingredient is perfectly paired with its counterpart. The whiskey is paired with the sweet brown sugar. The alcohol cooks off and you are left with the hint of almost a smoky flavor. Garlic and sweet tomato paste; worcestershire sauce and spicy dijon mustard, etc. Topped with sliced sweet beets, artichoke hearts and a slice of savory aged gouda cheese. The cheese's flavors of toasted caramel and hints of salt totally make these sliders!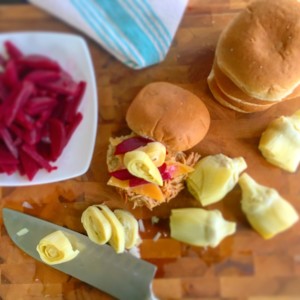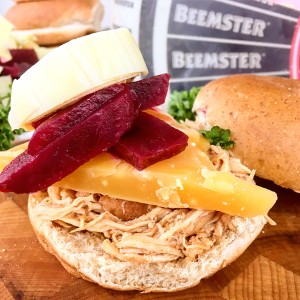 Whiskey Brown Sugar Pulled Chicken Sliders
Ingredients:
3/4 cup whiskey
1 tbsp. tomato paste
2 cloves garlic, finely chopped
1 tbsp. worcestershire sauce
1 tbsp. spicy dijon mustard
1/4 cup brown sugar
2 lbs. bone-in, skinless chicken thighs
1/2 lb. Beemster Classic Aged Gouda Cheese
8 oz. artichoke hearts
8 oz. sliced beets
slider buns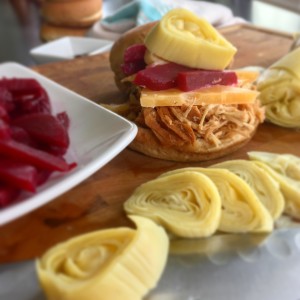 Directions:
Pour whiskey into slow cooker.
Whisk in tomato paste, garlic, worcestershire, dijon mustard, and brown sugar until well mixed and sugar is semi-dissolved.
Add chicken to slow cooker. Chicken should not be completely submerged in liquid but wading in it.
Cook on high 6-8 hours, until chicken is cooked through and falls off the bone.
Remove thighs from slow cooker, let cool for 15-20 minutes, and shred.
Add shredded chicken back into liquid and stir well.
Slice artichoke hearts, and beets.
Scoop chicken onto a bun, add one layer of gouda cheese, and top with artichokes and beets.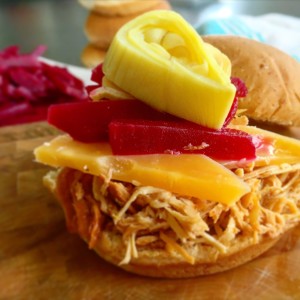 Enjoy!
Ciao!