Most nights, dinner at our house is an unplanned fridge raid pantry raid mashup. Sometimes I'm missing an ingredient that I want to use and dinner morphs into something a little different. So the day I didn't have tortillas, but I did have manicotti shells? Yep, Mexican Manicotti… and it is totally delish!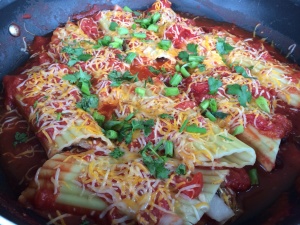 By making a sweet but spicy pineapple jalapeño salsa base, the stuffed manicotti shells can actually be cooked right in a large saucepan. No need to turn on the oven, this light, vegetarian, perfect-for-summer meal is sure to be a family favorite! The dish even looks beautiful. The colors create an amazing presentation!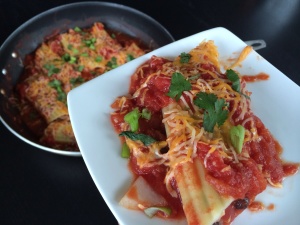 Shhhhhhhh! Packed with powerful vitamins and protein, Mexican Manicotti is super healthy, too!!
Vegetarian Mexican Manicotti
(makes 12)
Ingredients:
1 8oz.box (12) of your favorite manicotti shells- boiled until al dente
1 can San Marzano tomatoes
2 cloves garlic, finely chopped
1/4 cup crushed pineapple
1 medium jalapeño pepper , chopped
1/2 cup black beans- soaked and boiled or canned beans, drained
1-1/2 cup shredded cheese- monterey jack and cheddar blend (1/2 filling 1/2 topping)
2 tomatoes, chopped
1 small onion, chopped
2 tbsp. chopped cilantro (1/2 filling 1/2 topping)
1 tsp. chili powder
1/2 tsp. cumin
1 tbsp. chopped green onions
salt/pepper to taste
Directions:
Drain manicotti and let dry on a cookie sheet drizzled with olive oil to keep them from sticking.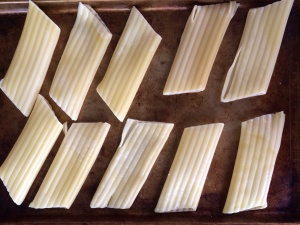 In a large saucepan, combine canned tomatoes, garlic, crushed pineapple, and chopped jalapeños.
Simmer.
In a mixing bowl, combine black beans, shredded cheese, tomatoes, onion, cilantro, chili powder and cumin. Gently stir to mix well.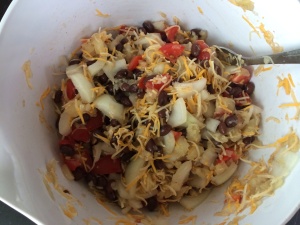 Carefully fill manicotti shells with black bean mixture.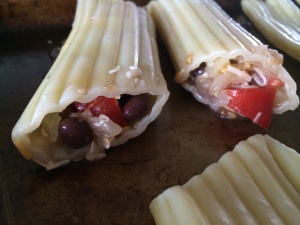 Place filled manicotti shells in sauce pan – 1 inch apart.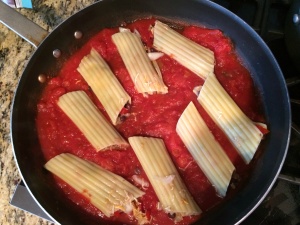 Cover with pineapple salsa from bottom of pan.
Cook 8-10 mins. until bubbly.
Cover with cheese and cook an additional 5 mins. until melted.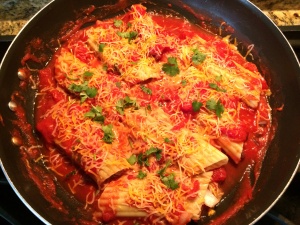 Sprinkle with green onions, cilantro and serve!
This recipe is soooooo great you probably won't have leftovers…We never do!!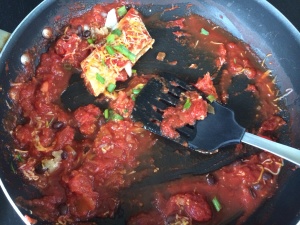 Enjoy!
Ciao!