I am convinced that sometimes we want things only because we can't have them! I made this creamy and delicious soup last week for Meatless Monday, and all I could think about was adding bacon. Crispy delicious totally crunchy bacon bits were on my mind. Hearty, creamy, and full of your favorite vegetables, this soup is a meal! Think loaded baked potato and add some fun toppings like chives, shredded cheese, sour cream, even chili. Serve with your favorite crusty bread and Enjoy!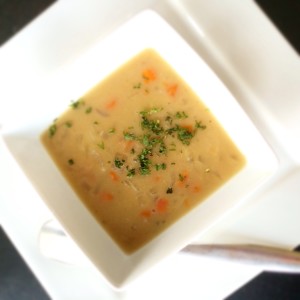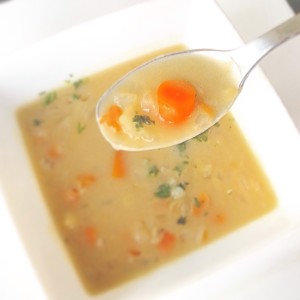 Potato Soup
makes approx. 2 quarts
Ingredients:
4 large potatoes, peeled and diced
2 carrots, chopped
5 celery stalks, chopped
1 large onion, chopped
3 cloves garlic, finely chopped
4 cups water
4 cups vegetable stock
4 tbsp. Butter, sliced into tbsp.
1/4 cup fresh grated Parmesan cheese
6 tbsp. Flour
1 cup heavy cream
Salt/pepper to taste
(Optional- 1/2 lb. bacon/pancetta, finely chopped and cooked until crunchy)
Directions:
In a large stock pot, add potatoes, carrots, and celery. Fill 4 cups water or to top of vegetables and heat.
Cook in water until tender.
Remove vegetables and set aside.
Add onion and butter to pot and cook until the onions are translucent, add stock.
Stir in flour and Parmesan cheese.
Add heavy cream, little by little, while stirring.
Bring to a boil to thicken, and add vegetables.
Add more vegetable stock until desired consistency.
Salt/pepper to taste
Top with bacon, shredded cheese, any of your favorite baked potato topping would be delicious!
Enjoy!
Ciao!