'Tis the season!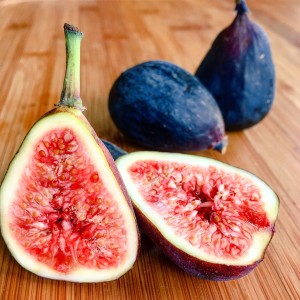 Fresh figs are out in full force in Pittsburgh.  A little early this year -usually they are peaking around mid-September. My favorite annual fig recipe is no recipe at all just fresh figs halved and drizzled with Balsamic Vinegar.  With this year's batch, I made a few quick and easy recipes that anyone can enjoy!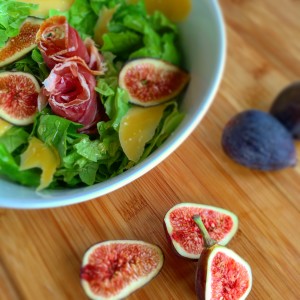 Fig & Prosciutto Salad with Aged Gouda and a Garlic Honey Vinaigrette
Ingredients:
3 cups baby greens /arugula mix, or your favorite salad base
6 slices prosciutto
2 Fresh Figs, sliced
2 tbsp. Beemster XO cheese ribbons, or grated
For the vinaigrette:
2 cloves garlic, finely chopped
1/4 cup honey
1/4 cup apple cider vinegar
1 cup olive oil
Vinaigrette Directions:
Combine all in a sealable container, shake until well blended.
For the salad, build with greens base.
I like to roll the prosciutto (it kind of looks like flowers!) and place into the greens.
Add cheese ribbons and fig slices.
Drizzle with vinaigrette.
Enjoy!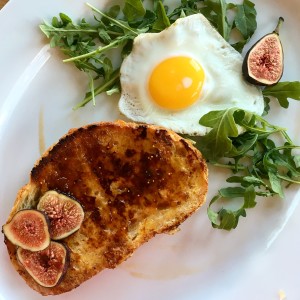 Spiced Fig French Toast
Ingredients:
8 thick slices Italian bread
4 eggs
1/4 cup heavy creme
3 tbsp. vanilla extract
1/2 tbsp. ground ginger
1/2 tbsp. ground nutmeg
1 tbsp. sugar
1/2 tbsp. cinnamon
butter to coat the pan
fig spread or fig jam
maple syrup
Directions:
Mix eggs and cream until pale yellow.
Add all other ingredients and mix well.
In a pie dish, soak each side of the bread.
Heat butter in your largest pan.
Add bread slices, 2-3 at a time being sure not to crowd the pan.
Flip when the side is brown.
Sprinkle with sugar, cinnamon.
Smear fig spread.
Pour warm maple syrup.
Enjoy!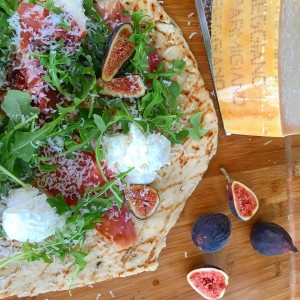 Prosciutto Ricotta Flatbread with Fresh Figs
Ingredients:
Prepared Flatbread or pizza shell
3 tbsp. Olive oil
3 cloves garlic, finely chopped
6 slices of prosciutto
1 cup ricotta
2 fresh figs sliced
1 cup arugula
Fresh grated Parmesan cheese.
Directions:
Layer starting with brushed olive oil and garlic.
Add prosciutto slices and spoon ricotta.
Top with sliced figs and fresh grated Parmesan cheese.
Bake 425 degrees on a pizza stone until shell is golden and cheeses are melted.
Finish by sprinkling arugula and more fresh grated Parmesan cheese.
Enjoy!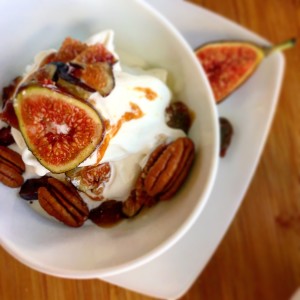 Toasted Pecan Honey Figs over Ice Cream
Ingredients:
1 fig sliced
1 tsp. Cinnamon
1 tsp. Sugar
2 tbsp. Fig spread
2 tbsp. Honey
Few pecans
Vanilla ice cream
Directions:
On a parchment covered cookie sheet, place fig slices and pecans in a single layer.
Warm honey and fig spread in a small saucepan.
Drizzle pecans and figs with honey mixture.
Sprinkle with cinnamon and sugar.
Bake 350 degrees until figs soften, 5-8 minutes.
Top ice cream with all, drizzle additional warmed honey.
Enjoy!
Other recipe suggestions:
Simple Fig Toasts- fig spread, topped with your favorite cheese, meat, and sliced figs
Fig muffins/bread – sub fig for Banana or strawberries
Prosciutto Wrapped and Drizzled Figs
Enjoy!
Ciao!