We would all love to meet the farmer that feeds and raises the cows that supply our beef, right?
You should and you can!!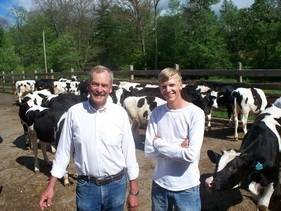 Photo Courtesy of Clarion Farms Beef. John and son John-Scott hanging out!
If you are in Pittsburgh, Clarion Farms Beef sells their family farm beef at the Pittsburgh Public Market on Saturdays. Shop local and buy fresh, no hormone, no antibiotic beef from a local family farm. True farm to table and focused on sustainability, Clarion Farms Beef sources local feed and mixed it fresh on the farm. Go see John-Scott! Bonus, the prices are incredible!
I paid $4 for the 80% ground beef (that yields about 2 tsp. of fat!! So technically its a grocery store's 95% lean?)
And $5 for the most lean ground beef! (That yields about 1 tsp. of fat- which is 98% lean or almost no fat?)
The ox tail ($5) for a 1lb. package. Cook it all day for a tender finish!!
The steak? Amazing!! Just buy some, seriously, I have no words. (Imagine that!) Timmy Reynolds from Penn Avenue Fish Co. and I made Clarion Farms Beef filets and lobster live for Valentine's Day at the Pittsburgh Public Market 's Ikea kitchen!
I bought some ground beef this weekend and put it to the test in a quick and classic bolognese sauce. Local, fresh, and delicious! This beef did not disappoint!!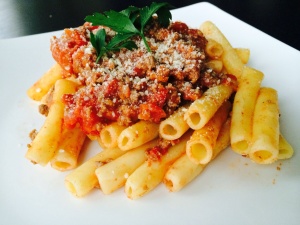 20 Minute Meat Sauce
Ingredients:
1 32oz. can Ciao San Marzano tomatoes
3 cloves garlic, finely chopped
1 small onion finely chopped
1 lb. Clarion Farms Beef ground beef
1 lb. of your favorite pasta, boiled until al dente and drained
1 tbsp. chopped basil
1 tbsp. chopped rosemary
1 tsp. olive oil
salt/pepper
parsley for garnish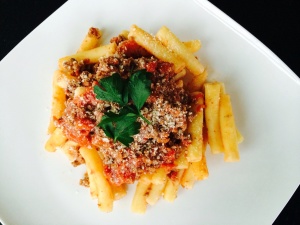 Directions:
In your largest, deepest frying pan, heat olive oil and golden the chopped garlic.
Add onion and cook until softened and light.
In a separate pan, brown beef and drain.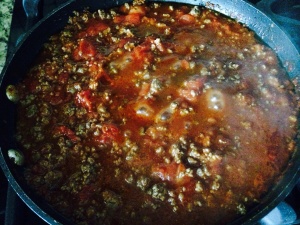 Add beef, tomatoes, herbs, salt and pepper to garlic and onion mixture. apart
Break apart whole tomatoes with a wooden spoon.
Cook for 8-10 minutes until heated through and bubbling.
Spoon sauce onto your favorite pasta.
Always top with fresh grated parmesan cheese and Enjoy!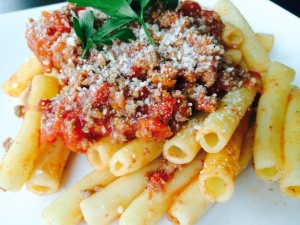 Ciao!
Clarion Farms Beef
On Farm Store The Beef Barn
82 Port Farm Lane
Clarion, PA 16214
814-764-5811
Hours: Tuesday -Friday 10-5
Saturday 8-5
Pittsburgh Public Market
Saturdays 9-5
Visit on Facebook