Cook quick, easy, healthy and delicious meals for your family on the grill all summer long! All you need is a great marinade or BBQ sauce recipe and a side dish! Here is one of my favorites this summer! (I have served this meal more than 4 times already!!)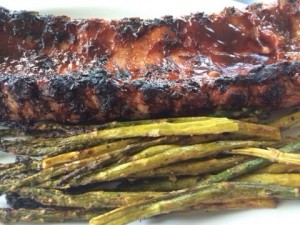 BBQ Baby Back Ribs
Inspired by Mario Batali's Kicka$$ BBQ sauce -My way!
Makes 3 cups
Ingredients:
1 medium onion
6 garlic gloves, finely chopped
2 cups ketchup
1/4 cup lemon juice
3/4 cup orange juice
1/4 cup water
2 tbsp. red wine vinegar
2 tbsp. tomato paste
2 tbsp. honey
2 tbsp. brown sugar
2 tbsp. molasses
2 tbsp. Worcestershire sauce
2 tbsp. dijon mustard
1 tbsp. chili powder
1 tsp. ground cumin
1 tsp. Tabasco or hot sauce (I used Sriracha)
Here is my edit:
2 cups of Sweet Baby Rays BBQ sauce instead of ketchup
1 cup of orange juice instead of lemon juice
No molasses
4 tbsp. brown sugar
Sriracha instead of Tabasco
Put everything into a heavy saucepan and bring to a boil.
Simmer for 10 minutes.
Remove from heat and cool. Keep sealed and refrigerated for up to one week!
Use this sauce to marinate ribs overnight.
Heat grill to 350 degrees.
Place ribs on grill and coat with sauce.
Grill for 8 mins. and flip, coating with sauce again.
Cook for an additional 5 mins. or until juices run clear.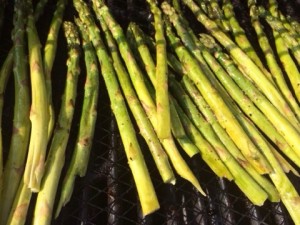 Grilled Asparagus:
Cut hard bottom inch off of asparagus.
Add 2 tbsp. olive oil, 1/4 cup parmesan cheese salt, pepper, and asparagus to a Ziploc bag.
Grill asparagus on a grill vegetable tray or on aluminum foil.
Cook until the asparagus can be poked with a fork, but is still crisp!
Enjoy!
Ciao!