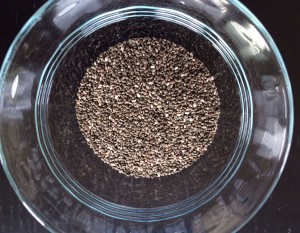 Chia seeds are a weight loss dream! One ounce of chia seeds contains 11g of dietary fiber! High in phosphorus, protein and omega 3 fatty oils, they help you feel full!
Need more stamina and energy? When eaten, chia seeds slow the conversion of carbohydrates to sugar giving us more strength and endurance!
Chia can be added to anything! It is a healthy lifestyle choice and I started today by incorporating chia into our breakfast routine!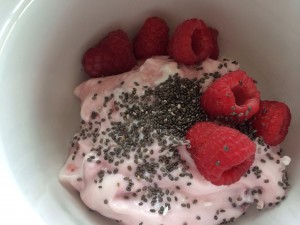 Even though the seeds are tasteless…if you don't want a gritty feel, make a gel and add it to any liquid!
Chia Gel:
Add 1/3 cup of chia seeds to 2 cups of water in an an airtight container. Shake vigorously for 90 seconds. Store in refrigerator for up to 2 weeks!
In a PreventDisease.com article "Are Chia Seeds the Perfect Superfood?" Some benefits of chia are:
Lose weight without starving
Balance blood sugar
Add Omega-3 oil to your diet
Nutrition
Feel more energized
Bake with less fat
Add age-defying antioxidants
Cut food cravings
And many more!!
Hair and skin products containing chia are popping up everyday!! This really is a superfood for the mind, body and soul!
Buy some seeds!
Where can you buy chia seeds? Whole Foods for sure!
I found mine at Pennsylvania Macaroni in Pittsburgh's Strip District! www.pennmac.com
Another step toward our quest for youth!! Count me in!
Ciao!
I did my research!
Sources:
Mychiaseeds.com
PreventDisease.com
Dr.Oz.com
Living-foods.com
nytimes.com