I was so nervous my hands were shaking, I prepped extra chopped garlic and basil because I could barely handle the knife…
Lights, camera, action. The fear melted away and turned into feelings of excitement and calm. It was as if I was in MY kitchen cooking for MY friends. I finally figured it out EEEEK! THIS is what I should be doing. THIS is what they talk about when they say doing what you love is not a job.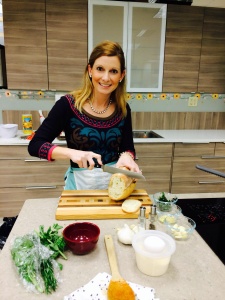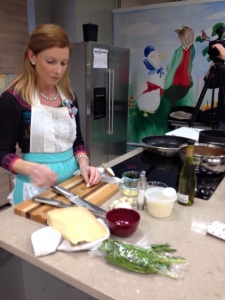 For my first time cooking live, I figured it should be familiar. I decided to cook Sunday Sicilian Sauce and cheesy meatballs. I only make this 40-45 Sundays per year! And I am pretty well versed in tomatoes, olive oils, and parmesan cheese- thought this would ease my nerves- Ha!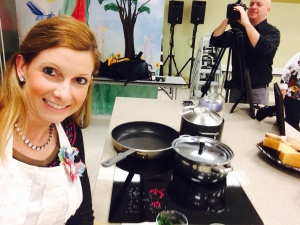 We are so lucky in Pittsburgh to have the Pittsburgh Public Market, where farmers and vendors sell fresh, local products. I get to cook in the Ikea Kitchen using the best quality ingredients and the audience can easily pick them up on the way out!
Other fresh ingredients not sold at the market come from Pittsburgh's Strip District and other local businesses.
Thanks to all who shop local, support small businesses, and cook with me! I will be at the Pittsburgh Public Market on February 14th at 11am with a Valentine's Surf and Turf menu featuring Timmy Reynolds from Penn Avenue Fish Company and Canonsburg's Sarris Candies Chocolate Fondue for Dessert! Stop down and Cook with me! Free samples and open to the public! RSVP today!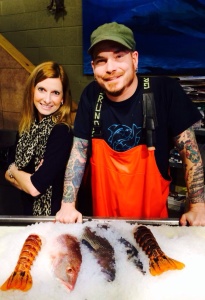 So for the sauce, I used Cobrancosa olive oil from The Olive Tap, garlic, fresh rosemary and fresh basil from Lengel Bros. Farm Market, Ciao San Marzano tomatoes and Parmesan Reggiano from Pennsylvania Macaroni Co., and the pre-made sauce was full of fresh ox tail from Clarion Farms Beef. We were lucky to sample the sauce by sopping it up with Mediterra Bakehouse Italian Bread sold by The Olive Tap.
Topping it all off with fresh grated parmesan and Shof Kase cheese from Wheel and Wedge is the most important part!!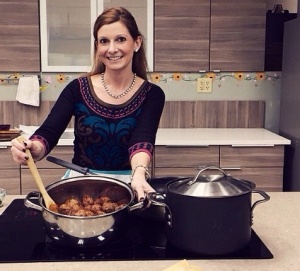 Cheesy Meatballs
Makes 18-20 1-1/2 inch meatballs
Ingredients:
1 lb. Ground Beef (Clarion Farms Beef)
4 garlic cloves, chopped (Lengel Brothers Farm Market)
2 tbsp. basil, chopped (optional)
1 egg
1 cup fresh grated Parmesan Reggiano (Penn Mac's cheese counter)
1 cup fresh grated Wheel and Wedge Shof Kase cheese (Or pecorino romano or even better Locatelli or all 4! Play around and see what you like!)
1/2 cup Cento plain breadcrumbs
Salt and pepper to taste (approx. 10 shakes)
Directions:
Add all ingredients to a large mixing bowl.
Completely mix by hand until well blended.
Roll 1-1/2 inch meatballs.
Place meatballs 1 inch apart on a jelly roll pan.
In a rush?
Bake 375 degrees for 10-12 minutes or until browned and cooked through.
Place into sauce and cook for 15-20 minutes.
Top with fresh grated parmesan cheese.
Not in a rush?
Throw them in the sauce raw and cook for 2-3 hours or until center is cooked through.
Don't cook them in the sauce longer than 3 hours. Unless you want a chunky meat sauce! The meatballs will break down and fall apart.
Serve with your favorite pasta and always top with fresh grated parmesan!
Enjoy!
Ciao!