I met Keith Fuller the day he cooked in the Ikea demo kitchen at Farm to Table's For The Love of Pittsburgh event held at the Pittsburgh Public Market. He prepared homemade ricotta and made a ricotta gnocchi pork belly carbonara- you know, No Big Deal.
I made chili…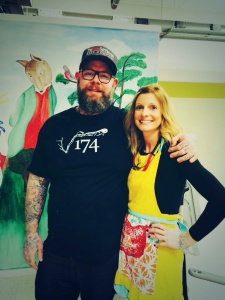 I met Keith, watched him cook, and knew I had to visit his restaurant…
Located in the center of Regent Square, Root 174 is a small, intimate, dimly lit restaurant. The best seats in the house are the cozy booths located at either window that look onto South Braddock Ave. We had a girls' night party of three with an early 6 o'clock reservation on a Wednesday evening. There was one other table dining. By 8 o'clock, the restaurant was packed. I would suggest making a reservation!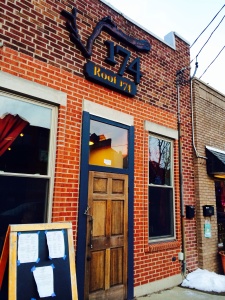 Let's start with a beverage.
Root 174's cocktail list is as interesting as the dinner menu. House made bitters, citrus infusions, gin, whiskey, bourbon, and vodka creations with interesting names….Not in the mood, I was able to find a nice Pinot Noir.
The starters looked way too good to pass up. We chose the mussels, the brussels sprouts, and the wings!

Mussels in a chipotle tomato broth with cherry tomatoes, kale, and frites. ($12) Cooked to perfection and so flavorful. I always order the mussels (we have some greats in Pittsburgh) and these were fabulous.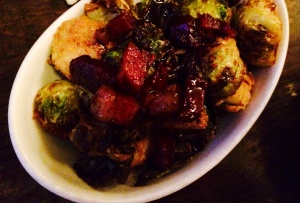 Crisp Brussels Sprouts ($7) in a bacon black pepper glaze. The sweet, salty glaze paired nicely with the crisp edges of the sprouts.

Coffee Confit Chicken Wings ($9) served with a vanilla bourbon creme and dried banana. Deliciously different.
Like the starters, the three of us ordered three entrees.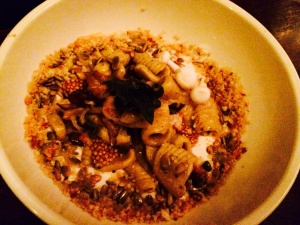 Pork Belly Carbonara ($20) We had seen Keith cook this dish live at the Farm to Table event! Exceptional flavors.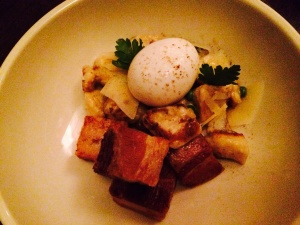 Orecchiette ($21) Cauliflower, sage, hen of the woods. What a beautiful dish!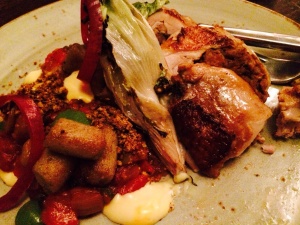 Chorizo stuffed chicken leg. ($20) My pick, was so delicious I forgot about trying the other entrées. Bad food blogger. I know. It only means there must be a next time!
Root 174's chef Keith Fuller has been named "one of the best chefs in America you never heard of" – braiser.com
And now you have!!
Travel to Regent Square! Visit Root 174!
Enjoy!
Ciao!
Root 174
1113 south Braddock Ave.
Pittsburgh, PA 15218
412-243-4348
Closed Sunday -Monday