A beautiful carved roast beef doesn't have to be a menu item reserved for fancy buffets. Whether you are building roast beef sandwiches for the game or a roast beef dinner with all of the trimmings, you can serve a rustic beef full of flavor. Cook a delicious roast beef at home with this quick and easy recipe!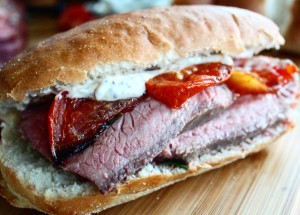 I love my roast beef pretty rare, but it can be cooked longer to a medium to medium well doneness. I have paired the beef with roasted tomatoes and a lemon rosemary aioli in this recipe.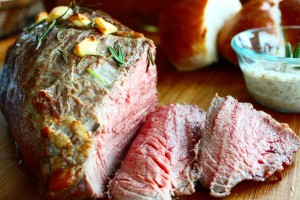 My go-to sandwich roasted tomatoes are tomatoes, sliced into wedges, drizzled with olive oil, topped with salt and pepper and roasted until they begin to shrivel and wrinkle. The tomatoes add a burst of flavor and pair well with the tang of the aioli. Enjoy this delicious recipe!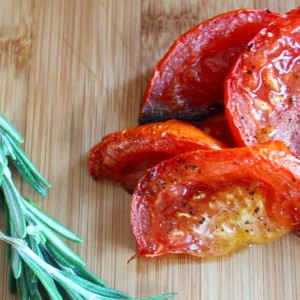 Garlic Rosemary Roast Beef
Ingredients:
2 tbsp. olive oil
4 cloves of garlic, chopped + 2 sliced in half
Salt/pepper
1-1/2 tbsp. rosemary leaves
3 lb. beef top sirloin roast
Rolls
Roasted Tomatoes
Lemon Rosemary Aioli
1/2 cup mayonnaise
2 cloves garlic, finely chopped
1 tbsp. lemon juice
2 tsp. spicy mustard
2 tsp. rosemary, finely chopped
Directions:
Whisk together olive oil, chopped garlic, salt/pepper, and rosemary leaves.
Add the roast to a large Ziploc bag and add liquid.
Let the roast sit for a few hours or overnight.
Remove the roast from the refrigerator and let stand at room temperature for 30 minutes.
Heat oven to 350 degrees.
Coat the roast with excess liquid and transfer to the rack of a baking pan.
Roast 90-120 minutes, until the internal thermometer reads 130 degrees.
Remove from oven and transfer to a cutting board, let cool before carving.
Grill the bread with butter, Spread the Aioli, Build the sandwich with sliced roast beef and roasted tomatoes.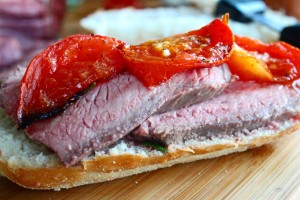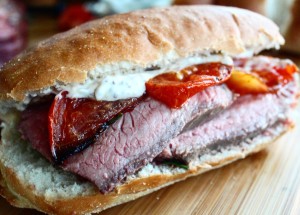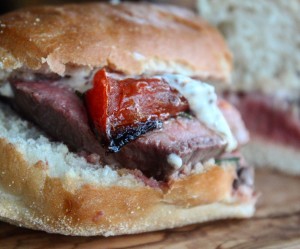 Enjoy!
Ciao!