This is cooking stripped down to the bare bones. No need for fancy herbs, spices, or ingredients. The best brussels sprouts are tossed with olive oil salt and pepper and roasted until crisp on the edges.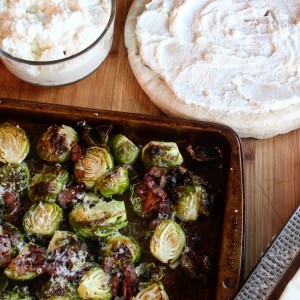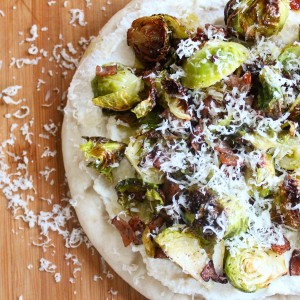 My Brady ,7-years-old, will not eat brussels sprouts even if they are "candied". My mommy description that should win the war. Technically? Yes, they caramelize, thus that makes them candied. So I was making him a pizza and ended up making a second with ricotta and Brussels sprouts! This combination is delicious!
Here is the recipe…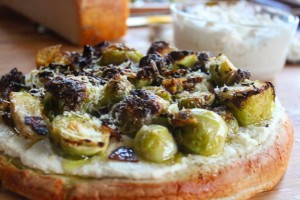 Garlic Ricotta and Roasted Brussels Sprouts Pizza
Ingredients:
2 cups brussels sprouts
2 tbsp. olive oil
Salt/pepper
1/3 lb.thick pancetta, cut into small cubes
For the ricotta base mix,
2 cups fresh ricotta cheese
3 cloves garlic, finely chopped
salt/pepper
Your favorite prepared pizza dough or shell.
Parmigiano Reggiano for topping. (I used 14 month aged)
Directions:
Preheat oven 400 degrees.
Clean and slice brussels sprouts in half.
Toss with olive oil, salt and pepper.
Roast until browned to desired likeness and remove from pan.
Meanwhile, cook pancetta bits in a pan until crispy.
Add the pancetta to the brussels and mix well.
Cover the pizza shell with ricotta mixture.
Add brussels sprouts/pancetta layer.
Top with fresh grated Parmigiano Reggiano cheese.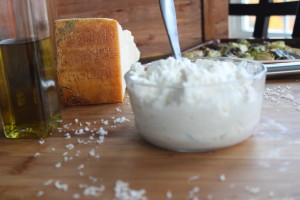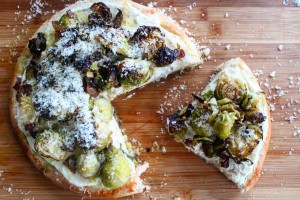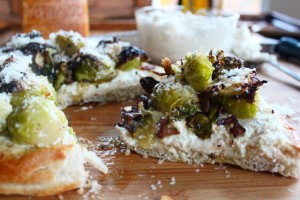 Enjoy!
Ciao!
Always make sure you are buying Parmigiano Reggiano from Parma Italy, the only Parmesan. Parmesan Princess is happy to represent Parmigiano Reggiano as their US ambassador.
In this recipe I used 14 month aged Parmigiano Reggiano. It is younger and creamier, a perfect finish to this amazing dish.