Slow braising beef gives you the opportunity to add so much flavor to the meat, not to mention the drippings that are perfect for a gravy/sauce base. This time of year, when comfort is king, the slow-braise cooking technique is used for many pulled meat dishes, short ribs, and of course hearty stews.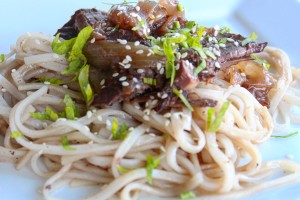 The top round cut, sometimes labeled London Broil, goes through an interesting process where the meat can be grilled, or quickly seared on high heat to have a rare middle. The seared beef is usually thinly sliced and served. So when the same meat is cooked longer, it goes through a period of being very tough and then the tension loosens and the meat gets tender and falls apart. I will warn you, cooking it longer will result in really dry, tough meat. Finding the meat's sweet spot isn't hard, it just takes some careful attention for the last hour.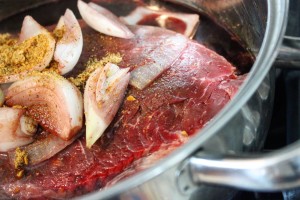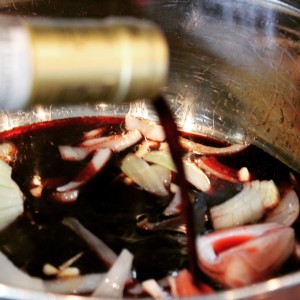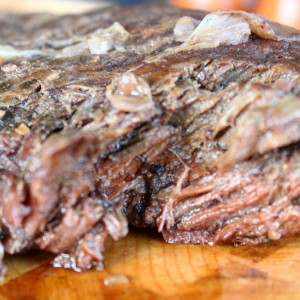 This dish is an asian fusion of traditional comfort food. The rice noodles add a base for the meat to be topped, and
the dried porcini mushrooms come to life as if they were meant for the red wine, beef broth. I added sesame seeds and thinly sliced scallions to finish the dish. Here is the recipe…
Red Wine-Braised Beef with Porcini Mushrooms over Rice Noodles
Ingredients:
1 3lb. top round roast (sometimes labeled london broil)
salt/pepper
3 tbsp. olive oil
salt/pepper
2 cups beef broth
1-1/2 cups dry red wine, I used a cabernet sauvignon
2 tbsp. tomato paste
1 medium onion, sliced
5 cloves garlic
1 tbsp. cinnamon
1 cup dried porcini mushrooms
3 tbsp. cornstarch, for thickening sauce
14-16oz. dried rice noodles
sliced scallion
sesame seeds
Directions:
Preheat oven to 350 degrees.
Heat olive oil in a pan.
Salt/pepper the meat.
Sear on all sides at high heat until browned.
Deglaze with a splash of wine and scrape the bottom of the pan.
Add the rest of the wine, broth, tomato paste, onion, garlic, and cinnamon.
Cover and cook for 1-1/2-2 hours until the roast registers 180 degrees or is at the sweet spot.
Remove and drain liquid into a stock pot, thicken with cornstarch, water method.
Add mushrooms and cook for 20 minutes until rehydrated.
Place roast on a cutting board and slice, it will basically fall apart.
Add boiling water to the rice noodles, according to package.
Strain and serve on a plate, topped with the meat, sliced scallions, and sesame seeds.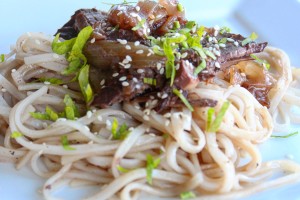 Enjoy! Ciao!