Vallozzi's Pittsburgh, an Italian favorite in the Burgh, brings a chic edge to traditional Italian. The cuisine and the ambiance reflect a twist on the classics, while permiating comfort and style.  I have visited the downtown Pittsburgh restaurant before with friends many times for drinks, a pizza or an antipasto platter with wine, but never had the full dining room experience.
This time, they had me at Sicilian Wine Dinner…
One week per month Vallozzi's is taking guests on a regional wine tour. The concept is innovative.  The course dinner is offered with or without wine pairings all week, in addition to the regular menu.  This On Demand wine dinner is awesome.  Not everyone in your party has to order the same way.  How much?  The Prix Fixe is $55 + $30 for all of the wine pairings.
Who else was in the restaurant?  Young trendy foodies, dressed to kill.  It was a Friday night.  There were a few generational family tables, and couples of all ages out for date night.  Point being, this Italian restaurant is totally not moth balls and red sauce.  It's fun and hip and Italian, a rare combo.
This coming week September 19-24th the menu is from the Tuscan region. Let me begin by saying I was here for the food and friends. I dined with The Food Tasters Pittsburgh, Breelicious Bites, and Pittsburgh documentarian Rick Sebak.  If you want to hear about the wine specifics, I'm not sure. The wines were delicious, smooth, and arrived at the table so fast -because we were talking and eating-that I barely got the story. There was so much food! I did get one photo of one bottle.
Those of you who aren't in Pittsburgh and won't be traveling to Pittaburgh anytime soon, that's ok. Have your friends over, grab some wine, and we will cook together ; )
We started with and a glass of Prosecco and an antipasto platter that blew me away! The choices, the quality, the freshness, were unmatched. The mortadella was a favorite!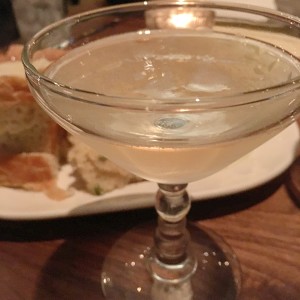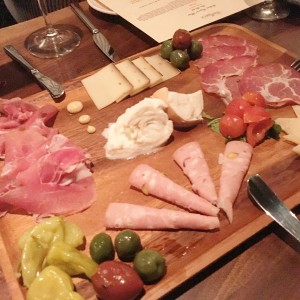 Primi, was the fried cuttlefish with pepperoncini, lemon, arugula, and a garlic aioli. Very similar to calamari it was something new for me!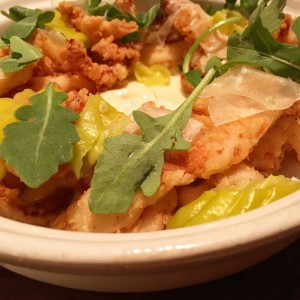 This dish…this dish was my everything about the dinner. Before I showed up i had my eye it. Food and smells sometimes take me back to my childhood. I remember my grandparents pan frying zucchini blossoms. I was young, but I remember the delicacy with which they were handled, and the joy that they brought my family. Excellent job, Chef. These were phenomenal.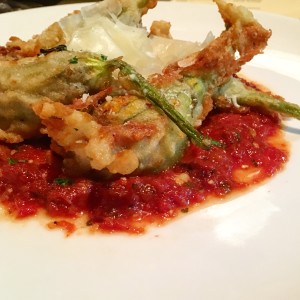 Eggplant Copanata with a twist!
The twist being a chickpea polenta.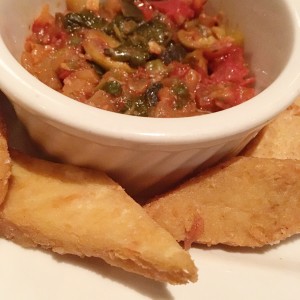 Now for the main courses, yep I'm serious.
Fettuccini al Nero di Calamari
I am not a fan of squid ink pasta, but the flavors were delicious!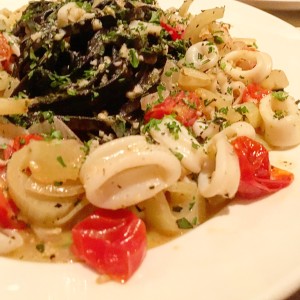 Farsumagru- Veal cutlet rolled with ham, sausage, cheese and pan braised with herbs, white wine sauce, eggplant coponata. This dish was ridiculously good! Ummm meat rolled with meat and cheese, yes!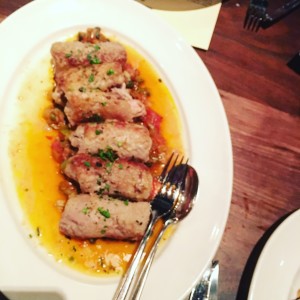 Tonna alla Pelermitana-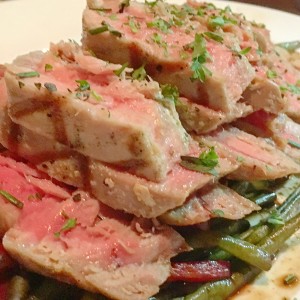 Dentice all Forno con Cipolle e Brodo di Carne- Baked Sea Bream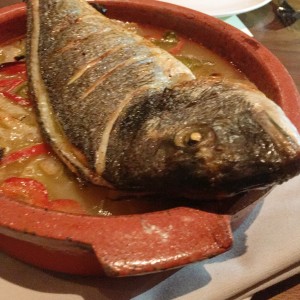 Dolci! Desserts and Limoncello – Sfingi Sicilian Donuts & Cannoli – the gelato was gone so fast I didn't get a photo!  Those of you who watch the cooking tvshow I co-host Between The Eats know my favorite dessert every is Sfingi. These were incredible!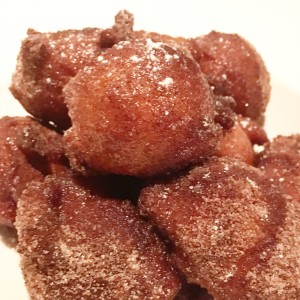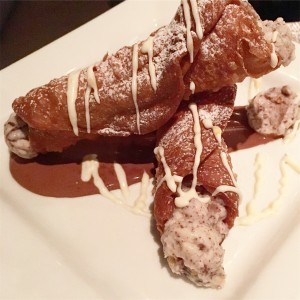 Thank You, Vallozzi's for a beautiful Sicilian wine dinner. See you in Tuscany!
Ciao!
Vallozzi's Pittsburgh
220 5th Ave.
Pittsburgh, PA
412-394-3400