Spring is here! So on a recent grocery run I picked up some spinach and crumbled goat cheese. You know, to make my favorite Springy salads- spinach, fruit, pecans, topped with goat cheese and a drizzle of olive oil or a fruity balsamic. So today I made…stuffed meatballs. Ha!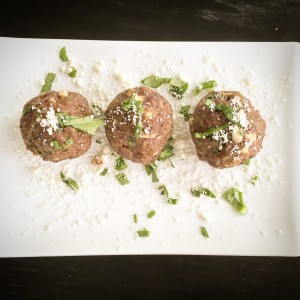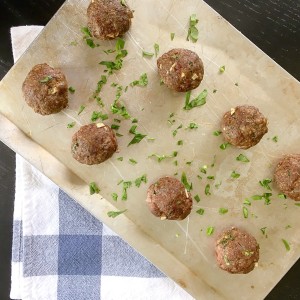 At least I used the spinach and goat cheese, right?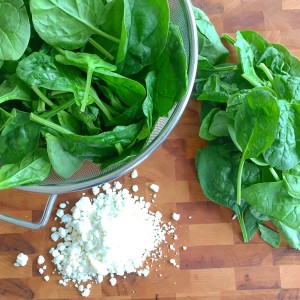 I only had one lonely pound of ground beef. This might be the reason I decided to stuff. I honestly love a beef/pork combination with loads of garlic and fresh grated parm. The unique thing about meatballs is that they are a blank canvas. Adding Greek flavors, Mexican flavors, Bacon and Cheese, takes the Italian meatball on a fun vacation!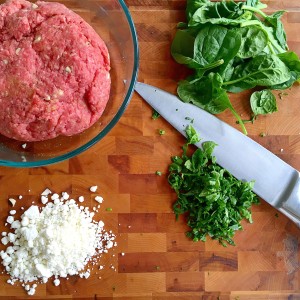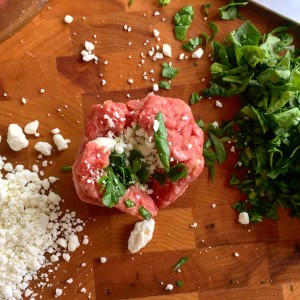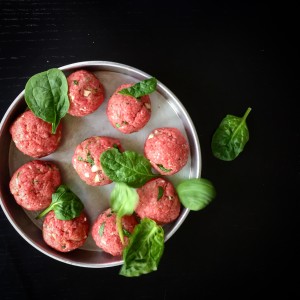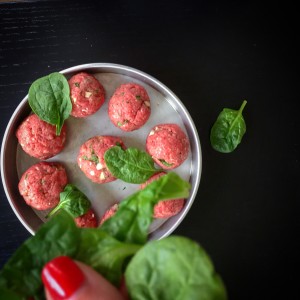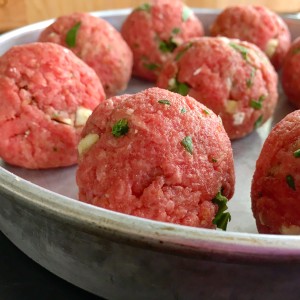 Stuffing the meatballs adds an element of surprise. My kids took their first bites and my Brady, age 7, says, "Hey mommy, what did you hide in here." As he's chewing spinach happily I just smiled. Bella said, "Is this goat cheese?" Ummm, my Bella is almost 5 and hates goat cheese- unless it's hidden really well. Apparently, the meat heavy garlic, and spinach wasn't enough camouflage. Nope, she reached for a spoon and scooped out the goat cheese and ate the rest of her meatball. She told me I shouldn't post this one.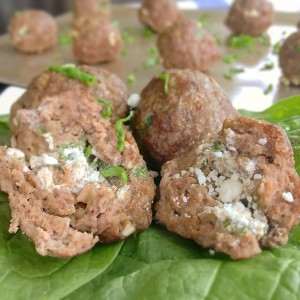 Here is the recipe…
Spinach and Goat Cheese Stuffed Meatballs
Ingredients:
1 lb. ground beef (use your favorite meatball meat ground turkey, ground veal, or a mix!)
3 cloves of garlic, finely chopped
1/4 cup panko breadcrumbs
1 egg
salt/pepper
1/3 cup crumbled goat cheese
1/3 cup spinach, finely chopped
Directions:
Preheat oven to 350 degrees.
In a large mixing bowl, mix meat, garlic, breadcrumbs, egg, salt and pepper.
Using your clean hands, mix well until all ingredients are incorporated.
Section off 1/2 inch clump of meat mixture and flatten.
Place one tablespoon goat cheese and one tablespoon of spinach on patty.
Roll up the sides and top with an equal amount of meat and form into a ball.
Put meatballs on a cookie sheet one inch apart and bake 12-18 minutes until desired doneness.
Top with finely chopped spinach and crumbled goat cheese and serve.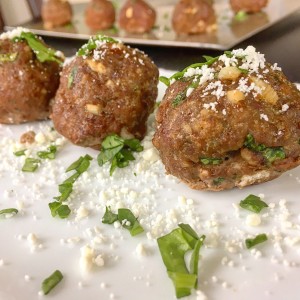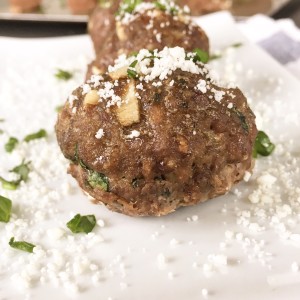 Enjoy!
Ciao!