With two kids, a food blog, a foodpreneur business, and co-hosting Between The Eats, grilled cheese is a welcomed "easy meal". I like to add amazing flavors to the base of the cheese being used- sweet grilled onions, rich sundried tomatoes in oil, buttery toast, and the zing of a spicy mustard!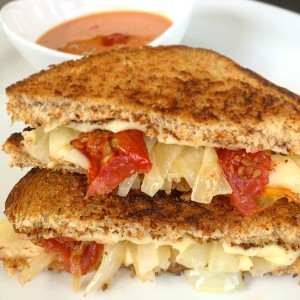 The absolutely necessary accompanying soup often gets completely ignored! Here is an amazing roasted tomato soup recipe. With bold, herbed flavors, it pairs beautifully with a gourmet grilled cheese.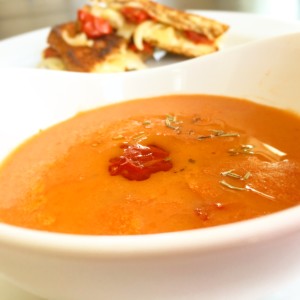 Here are the recipes..
SunDried Tomato and Onion Havarti Grilled Cheese
Ingredients:
4 slices havarti cheese
1/2 onion sliced
1 clove garlic, finely chopped
2 tbsp. fresh grated parmesan cheese
6-8 sun dried tomatoes in oil
2 slices of your favorite bread
2 tbsp. butter
1 tbsp. spicy brown mustard
Directions:
Add butter, garlic and onions to a hot pan and cook until lightly browned.
Remove onions from pan and butter slices of bread.
Grill bread until desired toastedness.
Layer cheese slices, parmesan cheese, tomatoes, and onions on grilled bread.
Allow cheese to melt on low heat.
Top with mustard.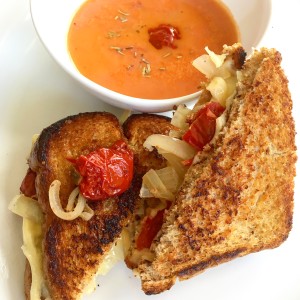 Roasted Tomato Soup
Ingredients:
1/4 cup olive oil
4 cloves garlic, finely chopped
1 small onion, finely chopped
2 -32 oz. cans whole San Marzano tomatoes
1/4 cup sun dried tomatoes in oil+ some for garnish
1 cup heavy cream
1 quart chicken stock
2 tbsp. Butter
2 tbsp. Rosemary
Salt/pepper
Directions:
Preheat oven to 375.
Add olive oil, garlic and onions to a hot pan.
Cook until softened.
Spread tomatoes, garlic and onions, and leftover olive oil in a single layer on a cookie sheet or jelly roll pan with a lip.
Roast at 375 for 20-30 minutes until tomatoes are caramelized.
Remove from oven and place in a stock pot.
Add chicken stock and butter.
Reduce heat and simmer until liquid is reduced.
Puree in a blender until smooth and return to the pot (or use an immersion blender).
Add heavy cream and mix well.
Salt and pepper to taste.
If too thick, add more stock.
Garnish with sundried tomatoes, a dash of rosemary, and serve hot!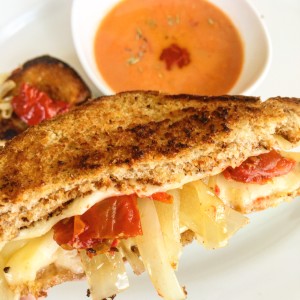 Enjoy!
Ciao!