Today's post comes from Briana White of Breelicious Bites, and is part of a special day of shenanigans from other Pittsburgh Bloggers. You can see my post over on Coffee And A Blonde, where I showcase a sweet and sassy asparagus recipe that's on point with one of Spring's hottest hues!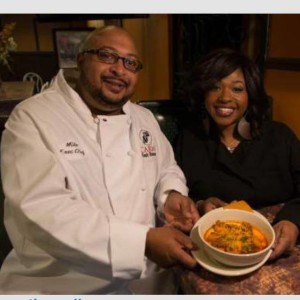 Photo Credit: Pittsburgh Tribune Review
Carmi Family Restaurant located at 917 Western Ave in the Northside opened in 2011. Owners Michael and Carleen King had a catering company, The Catering Kings, for three years before they dove into the restaurant business. I eat at Carmi often. When they first opened I was here almost every week! The food is so ridiculously good and reasonably priced..it's perfect for a girl like me that doesn't like to cook all the time. My two favorites here are the Chicken & Waffles and Shrimp & Grits. As their slogan says, "If you're hungry for some real Southern Cuisine, give Carmi a try".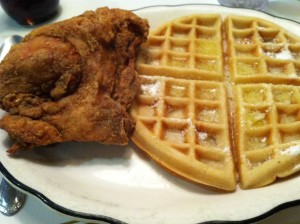 Chicken and Waffles Photo by: Breelicious Bites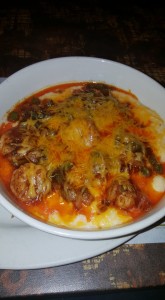 Shrimp and Grits Photo by: Breelicious Bites
Carmi will be celebrating their 5th year in May, to celebrate they are giving a "Thank You Dinner" to the Garfield Gators football coaching staff. Carleen stated, "They are huge mentors to the team, they are the village. The coaches are from the neighborhood and treat the team like family." The dinner will include speakers such as former Pittsburgh Steeler Mike Logan, an investment banker, and one of the parent's whose children play for the team.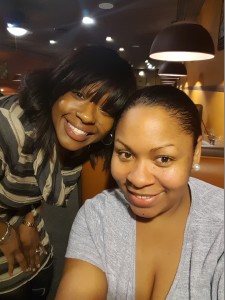 Photo Credit: Breelicious Bites Carleen King, Briana White (right)
On my most recent visit I got a chance to chat with Carleen and ask her a few questions:
How did you come up with the name? "We were thinking of names and Michael came up with it, it's a combination of our names, Carleen and Michael."
Why did you decide to open Carmi? "I just left my job at Verizon and we were doing small catering jobs.  We were renting a space in a church kitchen, where we had to bring everything in big totes, even salt and pepper. The catering jobs became more frequent and we were beginning to outgrow the space. I remembered that there was a kitchen attached to the Shamrock that had been closed for years. We came to look at the space and Michael suggested we open a dining room. Although, I was a little nervous, I agreed."
What is your favorite meal at Carmi? Smothered pork chops, mashed potatoes and fried corn

Smothered Chops Photo By: Breelicious Bites
Top Seller? Fried Chicken and mac n cheese
What's your favorite restaurant in Pittsburgh? Savoy's NEW menu and The Village Tavern and Trattoria
Favorite Food? Lasagna
Least favorite food? Oysters and hot dogs…and anything that has a weird texture
Contact info:
http://www.carmirestaurant.com/
412-231-0100
Thank you Briana White!  Visit Carmi Family Restaurant and breeliciousbites.com today!
Ciao!