Have you ever found yourself needing appetizers in a pinch? Most of the time I whip up an Italian meat, cheese, and olive tray. My go-to tray not only pairs perfectly with the drinks, which most often accompany my need for appetizers, but is also super easy to create because the ingredients are always in my refrigerator!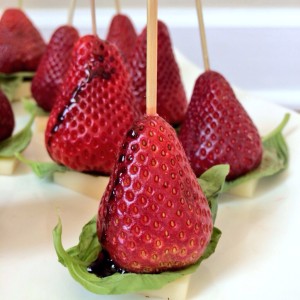 Spring into entertaining in the warmer months and winter appetizer choices seem overused.  Spring clean your recipes and replace the winter palate with sweet and savory small bites, with a ton of color of course! Easy and delicious are equally important qualities of these quick appetizers. Seasonal fruits and herbs are absolutely scrumptious with cheeses. What cheese works best? A solid but creamy cheese with a strong taste is always on point.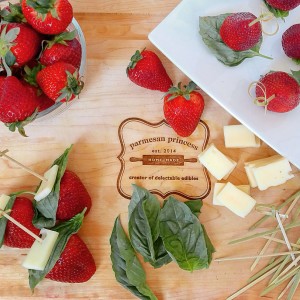 Don't forget the finishing drizzles. I am currently obsessing over Vincotto's Fig. A sweet and smooth vinegar, made from fig juice aged in oak barrels. It is versatile, tasty, and totally addicting! So here is my latest creation…enjoy!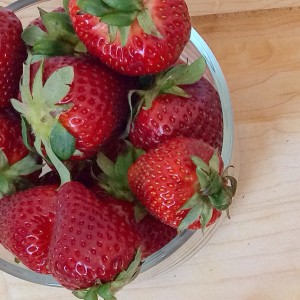 Strawberry Basil Fontina Bites
Ingredients:
12 strawberries, washed and destemmed
12 medium basil leaves
4 oz. fontina cheese, cut into 2 inch squares
toothpicks
Vincotto Fig vinegar for drizzle
Directions:
Stack one piece of cheese, one basil leaf, and one strawberry stem side down.
Spear with a toothpick.
Drizzle vinegar to taste.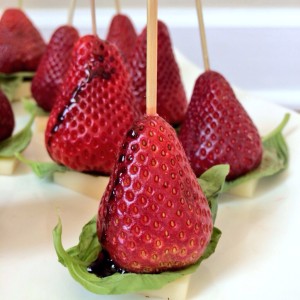 Enjoy!
Ciao!