Use up your leftover hard boiled eggs and transform them into a creamy egg salad you can slather on some fresh bread. The flavor is bold, but very comforting. I totally forget about egg salad! With Easter right around the corner, you have the eggs already made, so….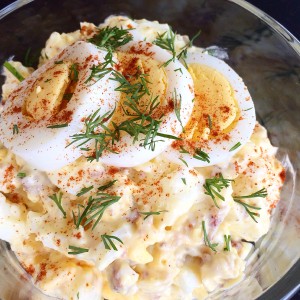 Of course you could just mix the eggs with mayonnaise, but that is totally boring. Channel the flavors of your favorite deviled eggs, the spicy, the sweet, the savory. By savory I absolutely mean BACON! First, you need my perfect hard boiled eggs recipe. Now, the egg salad…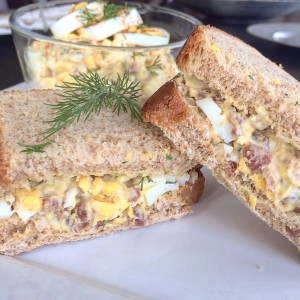 The Best Egg Salad Ever
Ingredients:
6 hard boiled eggs
1 cup chopped bacon, cooked
1/2 cup mayonnaise
3 tbsp. spicy mustard
1 lemon
salt/pepper
fresh dill, finely chopped
paprika, sprinkle
your favorite soft bread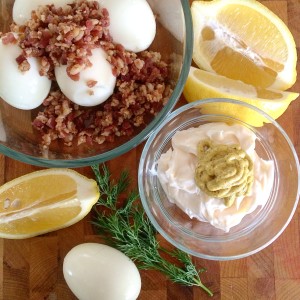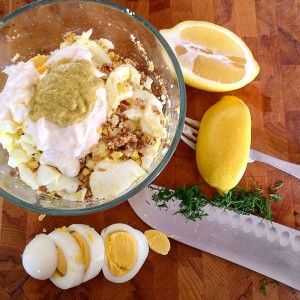 Directions:
Add hard boiled eggs to a large bowl.
Mash with a fork or coarsely chop into squares.
Add mayonnaise, mustard, salt and pepper to taste.
Mix in chopped bacon.
Squeeze 1/2 lemon.
Top with fresh dill.
Spoon a heaping pile of egg salad between two slices of fresh bread.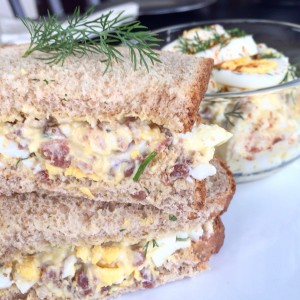 Enjoy!
Ciao!