Happy Spring! As the weather warms up it is time for easy one pan dinners showcasing colorful Spring vegetables.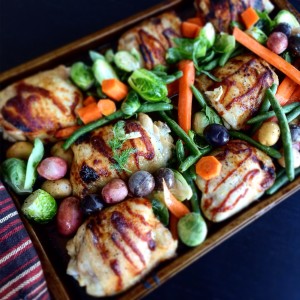 When I am in the mood for glazed chicken I love a skin-on cut of chicken. The skin crisps up really nice and holds the flavors so well. Spring brings out the spicy, sweet in me. My favorite combination is always a honey sriracha glaze, and this time I added lemon to the mix. Enjoy this Spring chicken dinner! Here is the recipe…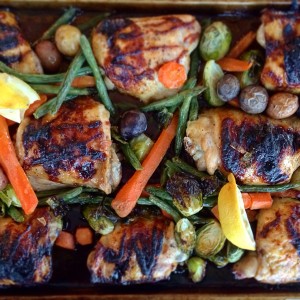 Roasted Chicken and Spring Vegetables
Ingredients:
2 pounds skin-on, bone-in chicken thighs
Salt and freshly ground pepper
3 tbsp. honey
1 tbsp. sriracha
2 lemons, quartered.
3 tablespoons extra-virgin olive oil
1 tbsp. rosemary
1 tbsp. onion powder
1 tbsp. basil
4 garlic cloves, finely chopped
1-1/2 cups fingerling potatoes
1 small onion chopped
2 cups brussels sprouts, halved
1 cup carrot, chopped, or left long cut in half
1/2 lb. fresh green beans
fresh dill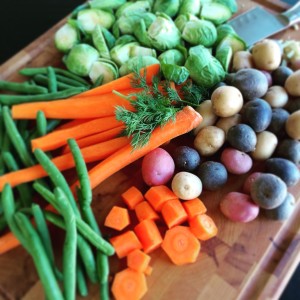 Directions:
Preheat the oven to 500 degrees.
Rinse the chicken and pat dry.
Season with salt and pepper.
Place skin side up on a rimmed baking sheet.
Mix honey, sriracha and brush onto chicken skin.
Squeeze one quarter of lemon.
Roast chicken for 15 minutes.
Add vegetables and potatoes to a Ziploc bag.
Add olive oil, rosemary, onion powder, basil, and garlic. Gently coat.
Remove the chicken from the oven.
Add vegetables to pan surrounding chicken.
Put pan back in the oven for 20 minutes until the vegetables are tender and the chicken is golden and cooked through. Squeeze the remaining 1/2 lemon over the chicken- extra glaze to taste and more lemon over the vegetables.
Top with the dill and serve.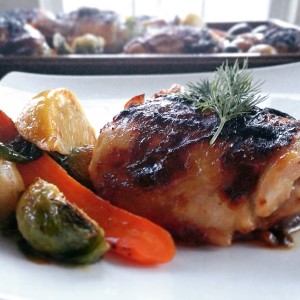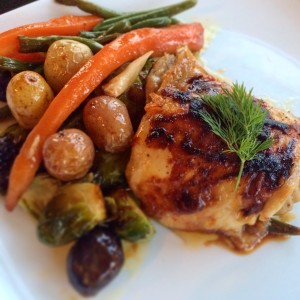 Enjoy!
Ciao!