Ever find yourself doing a pantry raid at 4:30 because you had no time to make dinner? I did this for Mardi Gras, well because I totally forgot and was completely unprepared for Fat Tuesday. The recipe ingredients were looking like clams, corn, potatoes and some vegetables. Chowder! How do I NOLA- it -up?  I got some tips from my friend Ben at Pittsburgh Po'Boy!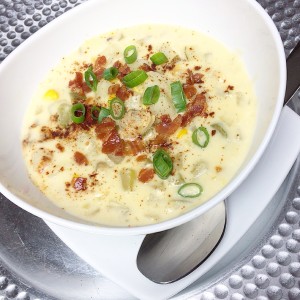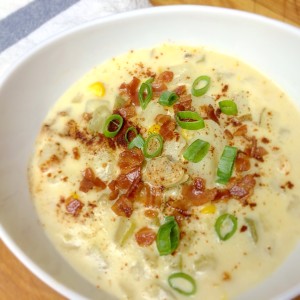 A Pittsburgher with Louisiana roots, Ben prides himself in capturing the flavors of Cajun cuisine. His gumbo is incredible and his shrimp and chicken po' boys make you feel the music of NOLA. Currently based at the Pittsburgh Public market, Pittsburgh Po'Boy's food truck will be up and running soon! Ben suggested the typical Cajun vegetable profile of celery, onion, and bell pepper. And seasoning with white pepper, thyme, and paprika. He likes to finish his dishes with some lemon juice , but I was out! Even without it, this chowder was still totally ah-Mazing. Thanks for your help, Ben!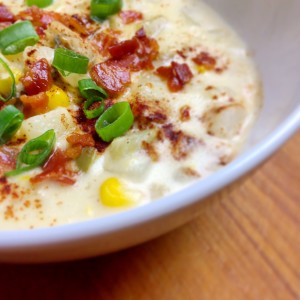 Cajun Corn & Clam Chowder
Ingredients:
2 ears corn on the cob
3 tbsp. Olive oil
4 cloves garlic, chopped
3 celery stalks, chopped
1 bell pepper, chopped
1 small onion, chopped
2 large potatoes, diced
10 oz. Baby clam meat in juice, precooked
1 Half pint heavy whipping cream
32 oz. Box Chicken stock
4 tbsp. Corn starch
1 tbsp. Red pepper flakes
Thyme,Paprika,Salt/white pepper to taste
6 slices of pancetta, finely chopped and crisped, leave drippings in pan
green onions, chopped for garnish
Directions:
Heat olive oil and add celery, pepper, onion, and garlic.
Slice corn in strip off the cob, keep the cobs.
When vegetables start to soften, add heavy cream, chicken stock, and corn cobs.
Cover and let it get hot.
Meanwhile, add the corn sliced off the cob to the pancetta pan and char corn.
Add potatoes, charred corn, and clam meat to the hot soup.
Cook until potatoes soften. (If you can cook it longer, great!  I had no time lol)
Season with salt/pepper, thyme, and paprika.
Serve and top with green onions and pancetta.
Enjoy!
Ciao!
Visit Ben at Pittsburgh Po'Boy today!