Healthy, delicious, quick and easy meals do exist! Often the easy part of the recipe involves planning ahead, having the ingredients on hand, or in this case, using up what's in the fridge!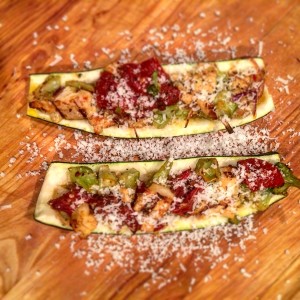 Chop up left over vegetables to create the filling for the scooped out zucchini boats. Use what you have – I did! Carrots, celery, mushrooms, spinach would all be delicious too. The chicken can easily be left out to create a vegetarian version of the dish.
Here is the recipe…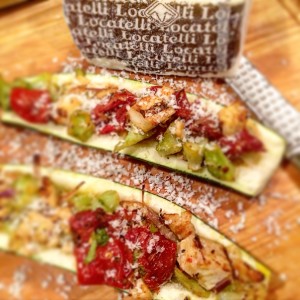 Vegetable & Chicken Stuffed Zucchini
(Makes 2 boats)
Ingredients:
1 medium zucchini, cut in half and scoop out half of zucchini
1/2 small red onion
1/2 bell pepper, sliced or chopped
3/4 cup broccoli florets
1/4 cup sun dried tomatoes
1 cloves garlic, finely chopped
1 small chicken breast, diced
2 tbsp. olive oil
salt/pepper to taste
fresh gated Locatelli Romano
Directions:
Pre-heat oven to 350 degrees.
Add olive oil, scooped out zucchini, and garlic to a hot pan.
Sauté onion, pepper, broccoli, tomatoes, and chicken.
Salt/ pepper.
When vegetables are cooked but still crisp, spoon mixture into zucchini boats.
Bake 350 degrees for 20-25 minutes until zucchini softens.
Remove from oven and top with grated Locatelli Romano.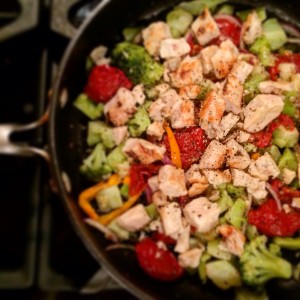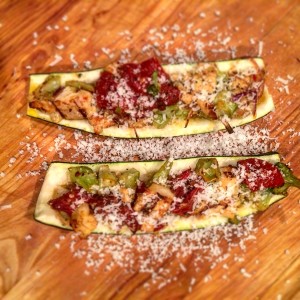 Enjoy!
Ciao!