Escaping the cold is always a great idea …boarding a jet plane, landing in paradise with sunshine , and being handed a drink with a tiny umbrella. Yep, sounds totally amazing!
How about escaping our winter comfort foods? Cooking with Latin flavors reminds me of the beach, and our tiny umbrella is the lime. The kids just ate two tacos each, so these are definitely a favorite in our house!
Here is the recipe…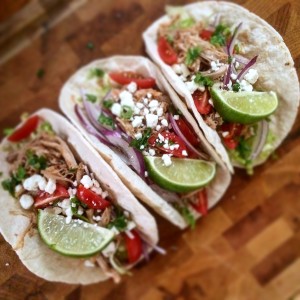 Chili Lime Pork Tacos
Ingredients:
1.5 lb. boneless pork ribs (cut off extra fat)
1/4 cup Lime juice – 2 squeezed limes
1/4 cup chili powder
2 tbsp. ground cumin
1 tbsp. cayenne pepper
2 cups chicken stock
4 cloves garlic, finely chopped
salt/pepper
Toppings:
Shredded lettuce
Tomatoes
Cheese
Red Onion
Green Onion
Fresh lime wedges
Cilantro, finely chopped
Directions:
Add lime juice in a large mixing bowl.
Whisk in chili powder, ground cumin, cayenne pepper, and garlic.
Add pork to a large Ziploc bag, pour in marinade.
Refrigerate 6-24 hours.
Add contents and chicken stock to a baking dish.
Bake 300 degrees for 3-4 hours until ribs are tender and start falling apart when touched with a fork. Add liquid as needed.
Let stand for 5 minutes and shred pork.
Add pork and toppings to the tortilla shell or make a salad, squeeze lime wedges.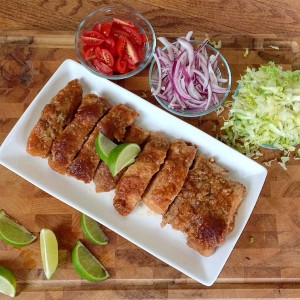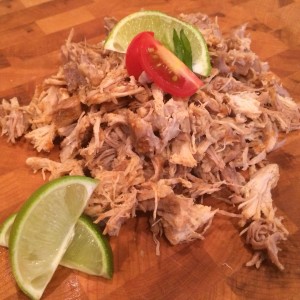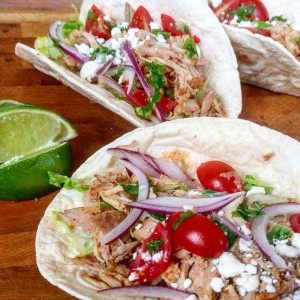 Enjoy!
Ciao!