Beef stroganoff is a mix of sautéed onions mushrooms and tender beef finished with sour cream. Usually served over buttered noodles, traditional Russian stroganoff is served over mashed potatoes or rice. Definitely a true comfort food, the stew-like dish warms the belly… and the heart.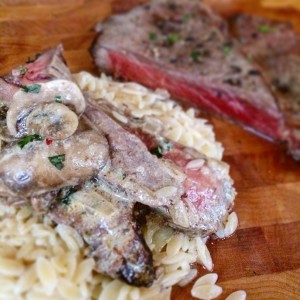 The trick to stroganoff is creating tender bites of meat. This recipe uses the "london broil" method instead of a braised beef top round, which I find to be too tough.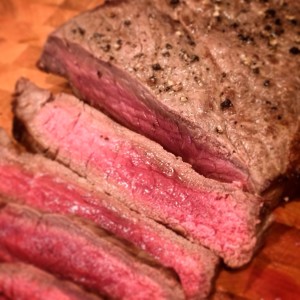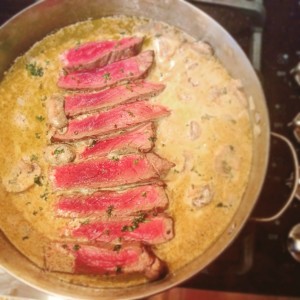 Other options are beef tenderloin or a sirloin steak cut into 2 inch strips. I finish the meat in red wine to tenderize and add flavor. Red wine softens the meat's muscle fibers creating a juicy, tender bite.
Here is the recipe…
Steak Stroganoff
Ingredients:
2 tbsp. Butter
2 tbsp. Olive oil
1 large onion, sliced thin
2 8oz. Packages of button mushrooms, sliced (or any of your favorite mushrooms)
2 lbs. "London broil" labeled beef or Beef tenderloin filet
1/2 cup red wine
1/2 cup beef stock
3/4-1 cup sour cream, add until desired richness
Salt/pepper
Directions:
Preheat oven on high broil.
Heat butter in a pan.
Add sliced onions and cook until soft.
Add mushrooms, drizzle olive oil, salt and pepper to taste.
Mix all together and sauté 3-5 minutes. Remove from pan and set aside.
Salt and pepper steak and broil 4-5 minutes per side until slightly under medium rare in the center.
Let stand for 10 minutes and slice against the grain.
Meanwhile, boil water and cook orzo according to package.
Add wine and stock to pan to heat placing meat in the middle to absorb flavors, tenderize, and finish off to desired doneness.
Add mushrooms and onions and mix well.
Remove from heat and add sour cream and stir until creamy.
Serve stroganoff over orzo.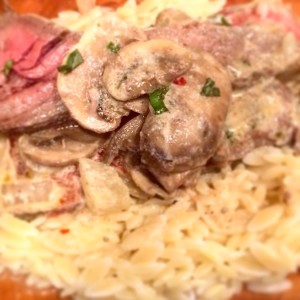 Enjoy!
Ciao!