"We are fortunate to have been in Pennsylvania since November 9, 2009" – Montana's Rib & Chop House
No, Montana's, we are fortunate to have you!  With two booming locations in Pennsylvania, Charlie Bish decided to open a third in Southpointe's Town Center block. The Pittsburgh suburb's business district needed a great steakhouse and Montana's Rib & Chop House is the perfect addition!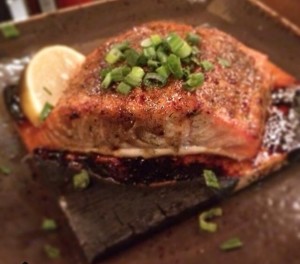 The location has a casual feel with a huge bar area surrounded by big booth seating.  The main dining room is a large open room with white tableclothed tables , and the best seating in the house are the private rooms down the back hallway. Perfect for a private party or business meeting, these rooms provide privacy as well as a comfortable atmosphere.  There is a $300 food minimum for private room booking, but that is easy to do with a party of five or six and wine! If you are like me, you will want to order everything on the menu, and Montana's is one place you will want to leave lots of room for dessert!!
OK, let's start at the very beginning..appetizers.
Most popular! Fried Green tomatoes with blue cheese, lump crab meat, and a balsamic reduction. I can totally see why it is the most popular app, majorly delish a  must try!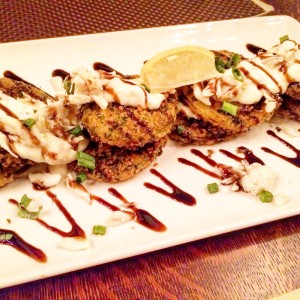 Calamari- deep fried calamari.  The star of this dish was the garlic aioli.  I love a smooth garlic aioli!!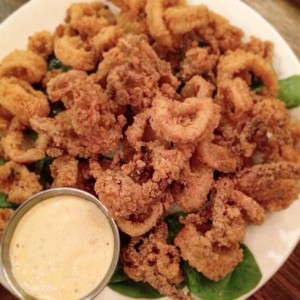 Soup course!  Montana's Gumbo, offered everyday, a delicious chunky gumbo with both chicken and sausage! I don't know why, but I thought it was strange that the Midwestern steakhouse's soup was gumbo?? It might be odd, but I could not stop eating it!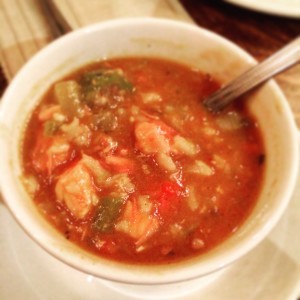 After a traditional house salad was the steak and rib course…All steaks are served on a 400 degree plate with butter. I kept saying everything reminded me of Ruth Chris (My favorite of the age old Morton's- Capital Grille- Ruth Chris debate.) We tasted the baseball cut top sirloin, the famous filet.  All were a perfect medium rare and soooo tender.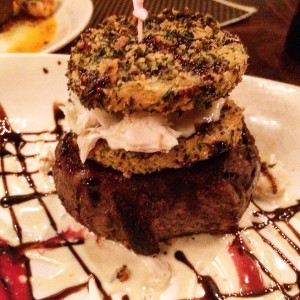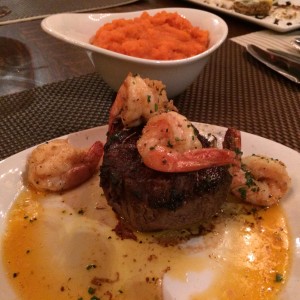 The Babyback Ribs were incredible.  Just enough char with a light BBQ glaze.  Just how I like them!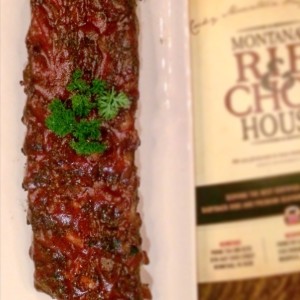 Lamb Chops- Delciious! Sometimes I like to order out the few things I don't make often at home.  This is your dish! Totally yummy!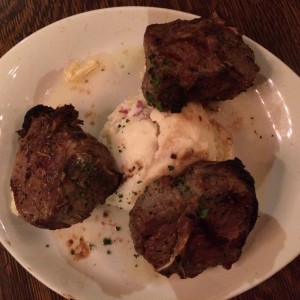 And the Seafood Course…
Seared Ahi Tuna- I am a humungous seared ahi tuna fan.  However, the crust on this tuna is "blackened" spices and it is very peppery.  Too much for me.  Next time I will ask for no seasoning.  It was perfection and one of the most beautiful platings.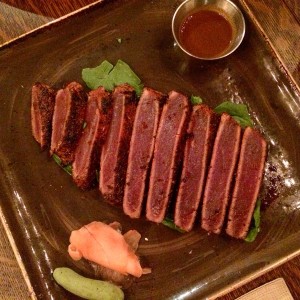 Cedar Plank Salmon – Montana's Cedar Plank Salmon comes in two preparations.  One being a traditional lemon and the other …wait for it….Jamaican brown sugar glaze! What?! This salmon was ridiculously good.  Cooked to perfection meaning a bit undercooked and was delivered on a flaming plank! My favorite seafood dish of the night!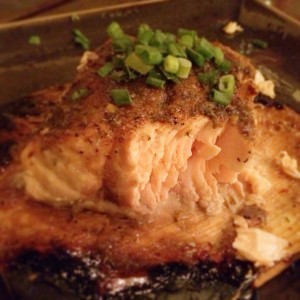 Shrimp – The shrimp were delicious.  I can't wait to try them in the Jambalaya next time!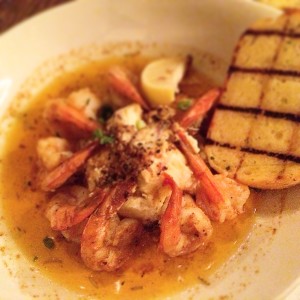 The delciious and totally affordable sides, which never ever is the case at a steakhouse, rocked.  Like spot on, carrot soufflé a take on the sweet potato version knocked our socks off.  Also, the garlic mushrooms and sausage stuffing were awesome additions!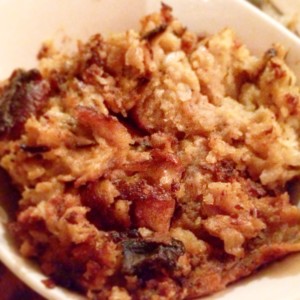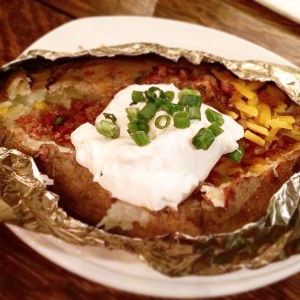 I needed a dolly to wheel me out and it was dessert time! We tried one of each! Not your typical steakhouse carrot cake bigger than our head, Montana's desserts are exactly what I wanted after eating a heavy dinner.  Choices contained creamy, light, delicious bites.  Exactly what I needed for a little sweetness.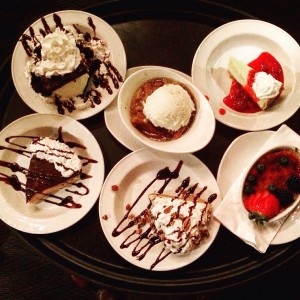 Best Creme Brûlée ever!!  I know, huge statement.  Not kidding.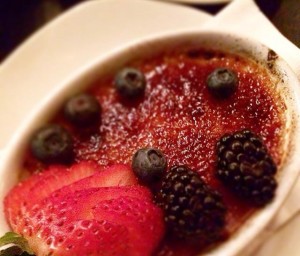 Pecan Meltaway, Cheesecake, Ice-Cream Brownie Sandwich, Satin Pie, and Apple Cobbler all were amazing! Nothing will disappoint!
The house wines are delicious and affordable- good, but bad.  We were lucky enough to land a bottle of Mollydooker Enchanted Path.  A new favorite! They have their own shake. The Mollydooker shake! Montana's Southpointe is hoping to do a wine dinner with Mollydooker soon!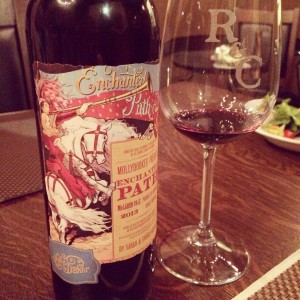 Montana's Rib & Chop House blew all of us away. Yep our entire party of five and that never happens!
Ciao!
Montana's Rib & Chop House Southpointe
1900 Main Street
Canonsburg, PA 15317
724-514-7153