My quick pan pork chops are just like grandma's except I add a Parmesan crust. I use the traditional 3-step crusting process, egg dip, breadcrumbs, Parmesan topping. You might say why not mix the Parmesan and herbs with the breadcrumbs? Save a step? Yes, but you chance not getting half as much Parmesan to stick! We can't have that! By tossing the pork chop twice, the tiny spots that the breadcrumbs didn't cover get filled in with parm!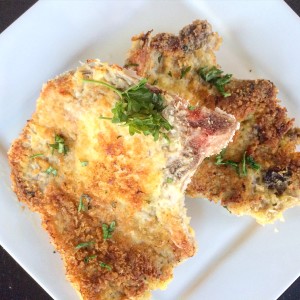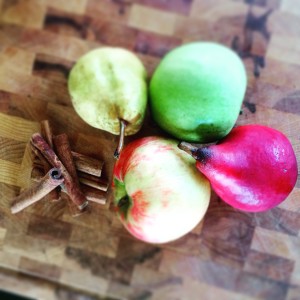 So I was totally in the mood for an apple -pear side dish to accompany these chops, something sweet but still fall. I came up with an Apple Pear Cranberry Risotto! The best part is I rehydrated the cranberries with Wigle Whiskey's "Landlocked" rum!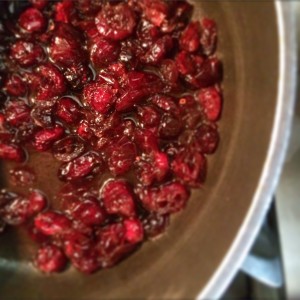 With all of the favorite holiday flavors, this risotto would be fabulous alongside Thanksgiving dinner, your Holiday ham, or just because! Serve it with a savory meal or top it with ice cream for dessert!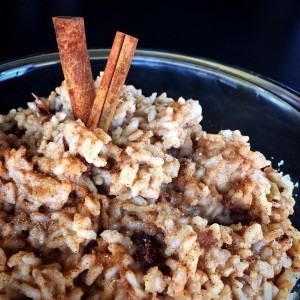 Apple Pear Cranberry Risotto
Ingredients :
1/2 cup dried cranberries, soaked
in rum until plump
1 Granny Smith apple, chopped
1 red delicious apple, chopped
1 d'anjou pear, chopped
3 tbsp. butter
2 tbsp.sugar
2 cups arborio rice
3-4 cups milk
1 tbsp. Cinnamon
1/2 tsp. ground cloves
1/2 tsp. ground ginger
1/2 tsp. nutmeg
Directions:
Melt butter in a large sauce pan.
Add apples, pears, and sugar.
Cook until they turn golden and soften.
Add cranberries with any rum left in the pan and arborio rice. Mix well.
Heat milk until hot but not boiling. I used my large glass measuring cup.
Add milk 1/2 cup at a time, constantly stirring and allowing the milk to absorb into the rice and cook each time. You will need anywhere from 3-4 cups. Keep adding milk and stirring until rice is al dente.
Remove from heat and add spices.
Mix well and serve warm.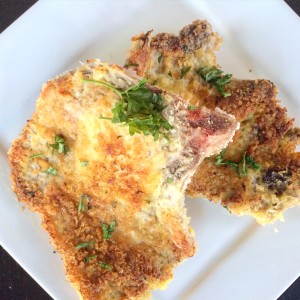 Parmesan Crusted Pork Chops
4 -6 bone in pork chops
2 eggs
2 cups Panko breadcrumbs
2 cups fresh grated Parmesan cheese
3 cloves finely chopped garlic
1 tsp. chopped basil
1 tsp. chopped parsley
Salt/pepper to taste
Directions:
Set up 3 pie plates in a row.
In the first pie plate, whisk 2 eggs.
In the second plate, add the Panko breadcrumbs.
In the third plate, add the Parmesan and remaining ingredients.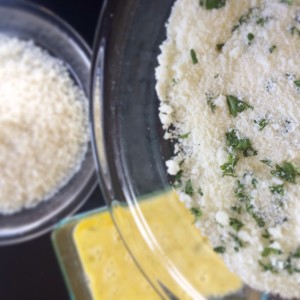 Dip the pork chops in the egg, flipping to coat both sides.
Then cover both sides with Panko breadcrumbs, and then the Parmesan mixture.
Continue with all chops.
Heat 2 tbsp. Oil in a large pan.
Add pork chops, flip when brown approximately 5 minutes per side or until internal temperature reaches 145 degrees.
Let stand to absorb juices and serve!
Enjoy!
Ciao!