Fall-off-the-bone, juicy, flavorful chicken thighs are the absolute best! Since most of the time we don't meal plan one day ahead, a long marination process can seem impossible. By using a robust marinade, you can easily create a depth of flavor without the 8 hour marination process. By robust, of course I mean garlic, a hint of jalapeño, and honey for sweetness. A quick coating is all it takes!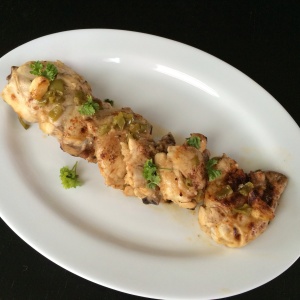 I suggest grilling the thighs. If you live in Pittsburgh it's impossible because it rains everyday! You can brown them in a pan like I did. The great thing is the thighs get completely smothered in gooey deliciousness and finished off in the oven, so either works. The marinade actually reduces to a thick sticky coating in the pan, totally ideal for chicken thighs.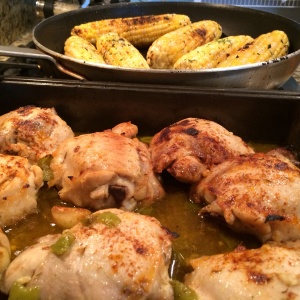 I utilized the left over pan goo to pan sear the corn on the cob…this was genius.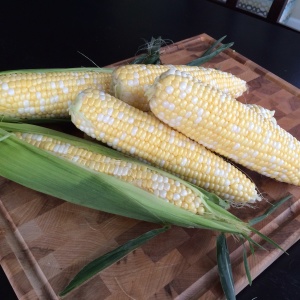 Robust garlic and honey flavors with a hint of jalapeño is perfection on corn!!!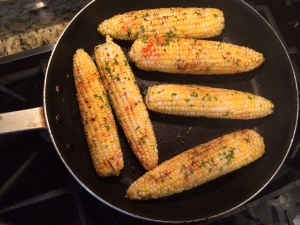 All I added was a coating of butter, a shake of paprika, and some finely chopped parsley for a fancy finish.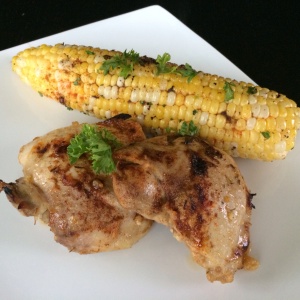 Garlic Honey Jalapeño Chicken
(makes 6-8 chicken thighs)
Ingredients:
1/3 cup honey
6 cloves of garlic, finely chopped
1 large jalapeño pepper, finely chopped
3 tbsp. olive oil- 2 tbsp. marinade/ 1 tbsp. for pan
2 tbsp. balsamic vinegar
Handful of chopped parsley or cilantro
salt/pepper
6-8 chicken thighs, skin on or off and rinsed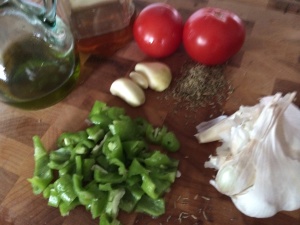 Directions:
Mix all ingredient together in a mixing bowl.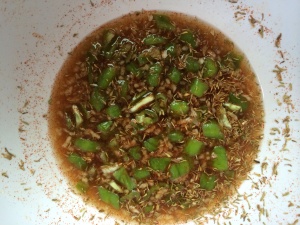 Coat chicken thighs in a ziploc bag or 9X13 pan to marinate.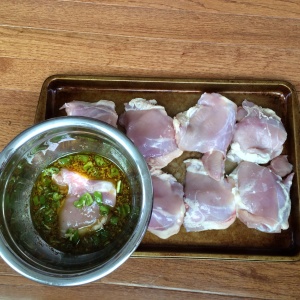 Heat oven 350 degrees.
(Overnight or all day is best …if you have time! This marinade is strong so it is not absolutely necessary.)
Heat 1 tbsp. olive oil in a large pan.
Remove thighs from marinade and add to the pan. Keep excess marinade!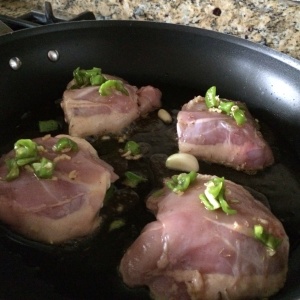 Brown thighs on each side 3-4 minutes per side.
Remove thighs from pan and add to a 9X13 baking dish.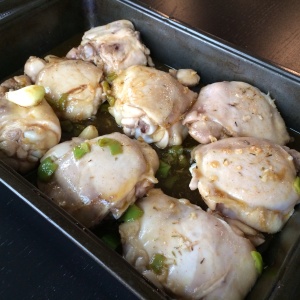 Pour excess marinade over thighs.
Cover with foil and bake 35-45 minutes, make sure juices run clear. Chicken will be "fall off the bone" yum!
Especially if skin-on, crisp the thighs under the broiler for 5-7 minutes until desired crispness.
Let stand 5-10 minutes and serve!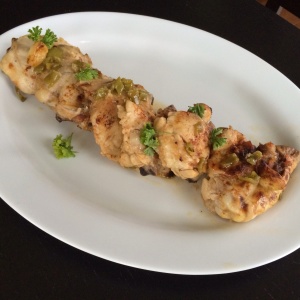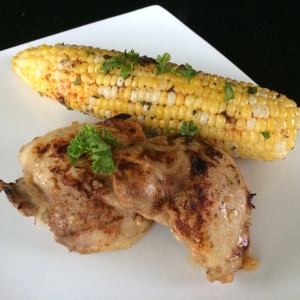 I serve these delicious thighs with Pan Seared Corn on the Cob!(See directions above in intro.)
These two dishes are delicious! Both stars of the meal!
Enjoy!
Ciao!