Sausage with a Latin flare makes an amazing burger! Chorizo is currently at the top of the food trend-o-meter, making appearances everywhere from food truck favorites to high end brunches! A seasoned pork sausage, the ancho chile powder gives chorizo its red color and spicy kick.
One of my family's favorite chorizo meals is a chorizo burger. Add in your favorite Southwest /Latin toppings right into the meat mixture and more on the bun! Today I made a chorizo burger with melted manchego cheese topped with thick juicy heirloom tomatoes! The tomato cools down the heat of the burger. I did not have avocado today, but a mock guac would be killer on this burger, too! Yum!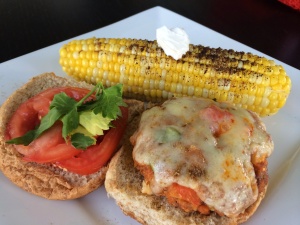 Here is the recipe!
Chorizo Manchego Tomato Burgers
(Makes 4 1/4 lb. burgers- 6 medium-sized burgers)
Ingredients:
1 lb. ground chorizo
1 egg
1/2 cup Panko breadcrumbs
2 cloves garlic, pressed
1 small onion, chopped
1 roasted red pepper, chopped
2 tbsp. cilantro, chopped
1/2 tbsp. chili powder
1/2 tbsp. cumin
salt/pepper to taste
Your favorite buns!
Topping:
sliced Manchego cheese
sliced heirloom tomato
handful or cilantro, parsely, or lettuce
Directions:
In a mixing bowl, mix by hand all ingredients until well blended.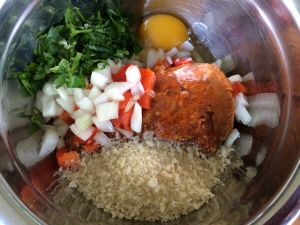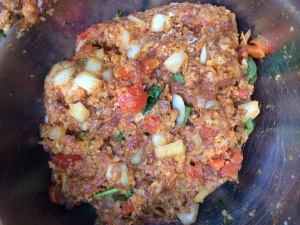 Mold into 4-6 burger patties depending on intended size.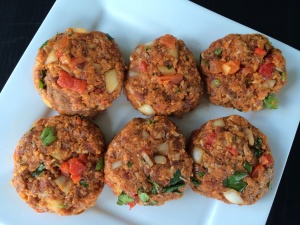 Grill (8-10 mins turning once) or bake in 375 degree oven (10-12 mins) until set and meat is cooked through.
Add manchego cheese slice and let it melt.
Remove from heat and let juices settle.
Place on bun, top with tomatoes, cilantro, and our favorite toppings!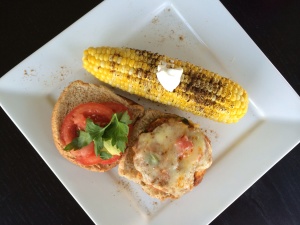 Oh, and this corn!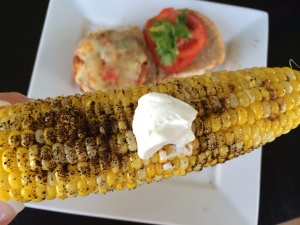 Stay tuned! Many summer corn recipes coming soon!!
Enjoy!
Ciao!