A fruity, refreshing tart is totally Spring- totally Summer! Do you ever switch it up? Instead of the usual strawberry blueberry sweet tart, how about a sweet and tangy strawberry lime tart?
Today's recipe is just that- A step outside the usual, a hint of lime and creamy whipped mascarpone cheese. I don't think a fruit dessert can get any better. At heart, I'm really a chocolate girl! Shhhhh!
Enjoy this recipe!
Strawberry Lime Tart
(Makes one 8 inch tart)
Ingredients:
Tart Crust:
1 cup flour
1/2 cup powdered sugar
1 cold stick butter cut into squares
Filling:
1-8oz. Mascarpone cheese
1/2 cup powdered sugar
1 tsp. vanilla
1 tsp. lime juice
Topping:
Strawberries – Lime Zest
Directions:
Heat oven to 325 degrees.
Grease a tart pan or a 1/2″ inch thick 8″ round cake pan.
Whisk together flour and powdered sugar.
Add in chunks of butter and work with your fingers until it starts to stick together and forms a dough.
Wrap in plastic wrap and chill for 30 mins. in refrigerator.
Roll out into an 8 inch circle.
Press into pan. If using cake pan leave a small overhang to be folded over.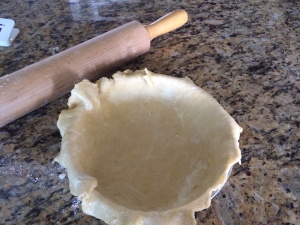 Bake crust 10-12 mins or until golden.
Let cool.
In a mixing bowl, whisk together mascarpone cheese, powdered sugar, and 1 tsp. lime juice.
Add filling and top with sliced strawberries and lime zest!
Get creative! Make a beautiful design or mass chaos. Either way, it tastes the same!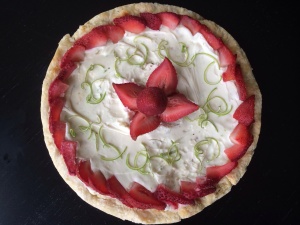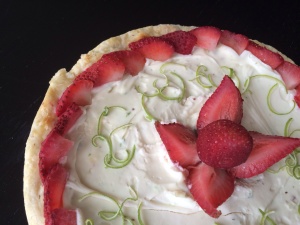 Enjoy!
Ciao!