Think of an inside-out jalapeño popper. That's pretty much the taste of this delicious and super easy cheese ball! Cinco de Mayo perfection, but it's also the perfect summer party appetizer! Save and file this one for a summer fiesta! Pairs really well with tequila ; )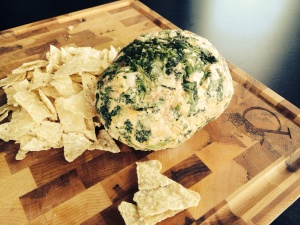 Cinco de Mayo Cheese Ball
(Makes one cheese ball feeds 8-10 as an appetizer)
Ingredients:
1 -8 oz. package of Cream Cheese, softened
1- 2 cup package shredded Mexican cheese
2 – jalapeño peppers, chopped (may substitute bell peppers or mild hot peppers to reach desired heat level)
1 large tomato, chopped
1 small onions, chopped
2 tbsp. chili powder
1 tbsp. cayenne pepper
1/2 tsp. cumin
salt and pepper to taste
2 cloves garlic, finely chopped
1/3 cup finely chopped cilantro
Directions:
Soften the package of cream cheese either by setting on the counter at room temperature for 30 mins or by placing cream cheese in a bowl of hot water for 10 mins.
Remove cream cheese from package and place in a mixing bowl.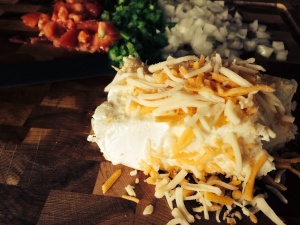 Add shredded cheese and mix well.
Gently stir in peppers, tomatoes, onions, chili powder, cayenne pepper, cumin, salt and pepper.
Mold cheese mixture into a ball. It will be a little mushy.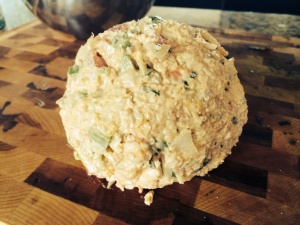 Mix garlic and cilantro together and place on a flat plate.
Roll the cheese ball in the chopped garlic cilantro mixture to coat.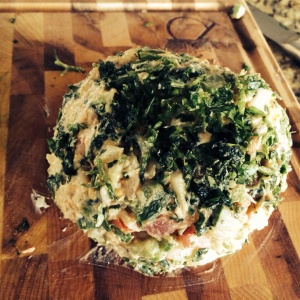 Wrap cheese ball in plastic wrap and refrigerate for two hours.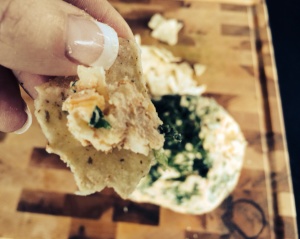 Enjoy!
Ciao!