Thinking produce? Us, too! We cannot wait for fresh, local vegetables! Have you ever thought of subscribing to a CSA (Community Supported Agriculture) program?  Although the name suggests you need to roll up your sleeves and help farm along with others, the exact opposite is true… You pick up your box. Done.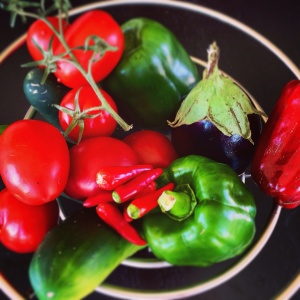 Many farms near Pittsburgh offer CSA programs that include produce, eggs, cheese, and even meat.  A farmer who is part of the Pittsburgh Public Market family, Elliott Lengel of Lengel Brothers Farm, offers the community a fabulous CSA program out of Mercer, PA.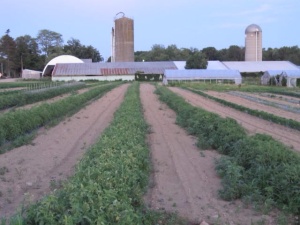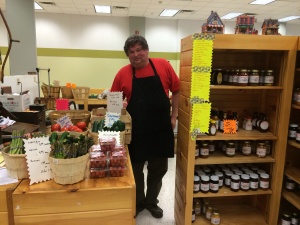 The Lengel Brothers Farm CSA program runs August through November, pick up locations include the Public Market in the Strip, and they offer a discount for members starting now! The program runs 14 weeks and the pricing is $120 for a quarter share, $200 for a half share, and $350 for a full share.  Members can pick your own items for you basket or get what you get! Elliott also bakes homemade breads and offers jams and many other condiments at a discount for members!
Pasta Primavera is one of my favorite, quick and easy healthy dishes! Originating from LeCirque in New York City, Pasta Primavera was discovered by accident when Mr. Maccioni and his family were asked to prepare dinner for a food tour in Canada.  Mr. Maccioni was forced to do a vegetable fridge raid and tossed it with pasta and fresh grated parmesan cheese.  When the guests asked what he called the dish he responded, "Pasta Primavera!"  The dish is not on the menu at Le Cirque these days, but the dish is made table side for those who ask.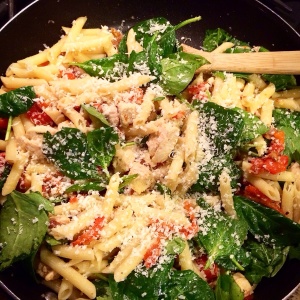 Pasta Primavera
Ingredients:
2 tbsp. basil olive oil …
The Olive Tap
3 cloves of garlic, chopped
1 small onion, chopped…Produce from 
Lengel Brothers Farm Market
1 zucchini, chopped 1/2 inch
1 cup snap peas, chopped
1 cup mushrooms, sliced
1 pint cherry tomatoes
2 cups fresh grated Parmesan Reggiano cheese…
Pennsylvania Macaroni Co.
2 tbsp. fresh basil, chopped
1 lb. dry or fresh pasta
salt/pepper to taste
extra fresh grated parmesan cheese
Directions:
Heat olive oil in a large, deep frying pan.
Add garlic and cook until golden and softened.
Add vegetables according to cooking time. Longest first.
Add onion, zucchini, mushrooms, snap peas and cook until tender not mushy.
Meanwhile, throw in 1 lb. pasta and cook until al dente.
Drain well and toss with vegetables in the pan.
Add parmesan cheese and coat.
If too dry add a lithe bit more olive oil or a 1/2 cup chicken stock..
Throw in salt/pepper and basil.
Enjoy!
Ciao!
For more information on Pittsburgh CSA programs Click Here!