Easy to make and a great way to use up left over ham, this ham and bean soup is filled with vegetables and chunks of sweet ham. Use your favorite beans! Not a bean fan? You can leave them out and have a hearty ham and veggie soup. The addition of chili powder, cumin, and a squeeze of Sriracha gives the soup a little kick!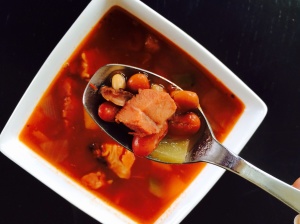 When I make a ham we always have TONS of leftovers. I save the bone to make this soup, but it would be just as tasty with just leftover diced ham. Don't worry if you don't have the bone! The addition of more chicken or vegetable stock would make up for the missing bone broth.
Homemade soups are easy to freeze and easy to thaw! Perfect for dinner in a pinch!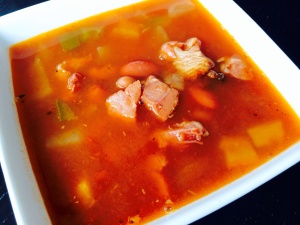 Ham Vegetable Bean Soup
(Makes a lot!)
Ingredients:
1 meaty Ham bone
1-1/2 cups ham diced into bite size pieces
1 cup celery, chopped
1 large onion, chopped
3 cloves garlic, chopped
6 potatoes, peeled and chopped into 1/2 inch chunks
2 tbsp. Olive oil
1 vegetable broth bullion cube and 4 cups of water
1 14.5oz. Chicken stock
1 32 oz. can crushed tomatoes with juice
1 16oz. bag 10 bean dry beans, pre-soaked or 3 cans of your favorite beans – kidney beans, canellini beans, pinto beans, etc.
Drained.
2 tbsp. Worcestershire sauce
1 tbsp. Chili powder
1/2 tbsp. Cumin
Squeeze Sriracha to taste
Salt/pepper to taste
Directions:
Heat olive oil on low in the bottom of a large stock pot.
Add garlic and cook until golden and softened – a few minutes.
Add vegetable bullion cube, chicken stock, and water.
Mix well until cube is completely dissolved.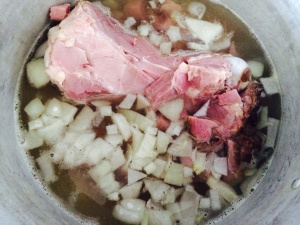 Add the ham bone, Worcestershire sauce, and spices.
Cook for one hour on medium high heat.
Add diced ham, onions, celery, potatoes, tomatoes, and beans.
Cook an additional 2 hours.
Remove the ham bone. Scrape off any additional chunks of ham.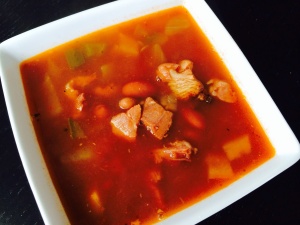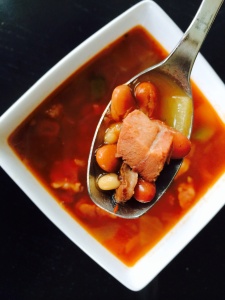 Serve as a meal or as a yummy starter!
Enjoy!
Ciao!