Sometimes we NEED chocolate! Don't you?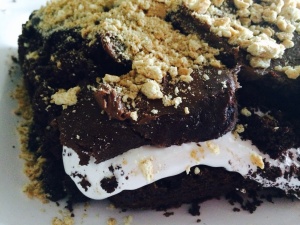 S'mores Cake
You favorite boxed cake mix
OR up your baking game and try…
1 3/4 cups all-purpose flour, plus more for pans
2 cups sugar
3/4 cups good cocoa powder
2 teaspoons baking soda
1 teaspoon baking powder
1 cup buttermilk
1/2 cup vegetable oil
2 eggs
1 teaspoon pure vanilla extract
1 cup freshly brewed hot coffee
Filling and Frosting
Your favorite chocolate buttercream frosting
OR
Beat 1/2 cup cocoa
1 cup butter, softened
3 cups powdered sugar
1-2 tbsp. milk or half and half
Add more sugar or milk until desired consistency
1-2 cups Marshmallow Creme
2 sleeves 12 grahm crackers crushed to crumbs in a Ziploc bag
Directions:
Preheat the oven to 350 degrees F. Butter two 8-inch /9-inch x 2-inch round or square cake pans.
Grease pans with Crisco and light flour.
Sift the flour, sugar, cocoa, baking soda, baking powder, and salt into a mixing bowl.
Using an electric mixer, mix on until well combined and smooth.
In another bowl, combine the buttermilk, oil, eggs, and vanilla.
With the mixer on low, slowly add the wet ingredients to the dry.
With mixer still on low, add the coffee and stir just to combine, scraping the bottom of the bowl with a rubber spatula.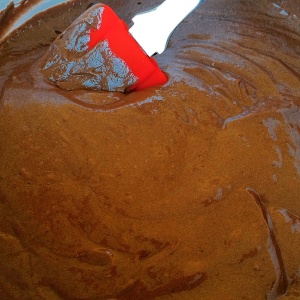 Whether using boxed cake mix or homemade, pour the batter into the greased pans and bake for approximately 35 minutes or until a toothpick tester comes out clean.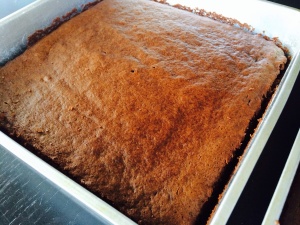 Let the cake cool completely before icing.
Slide a knife along edges of cake pans. Cake should have pulled away from the pan. Flip upside down and tap with a knife until cake comes loose.
Place on platter rough side down.
Frost the first layer with chocolate frosting, add a layer of marshmallow creme. Sprinkle a layer of crackers.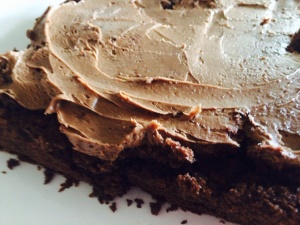 Remove the second layer of cake from the pan.
Place on top so the smooth side is facing up.
Frost the top of the cake and sprinkle the remaining crackers.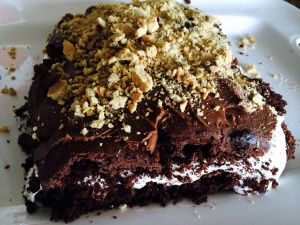 Enjoy!
Ciao!