Those of you who have been following Parmesan Princess know I'm on a mission to "up my baking game." I feel like it will be an ongoing goal because I am slow to catch on to the baking patience, the annoyingly important precision of baking times and temps, not to mention the humidity in the air of which a baker has absolutely zero control.
With that said, those of you who know me well are probably saying, "OK, giving up control and requiring patience…Poor thing, I hope she sticks to cooking!"
True. Yes, but I am diving into a new world of fancy French pastry words because this impatient control freak also enjoys a good old fashioned challenge. Bring it on!!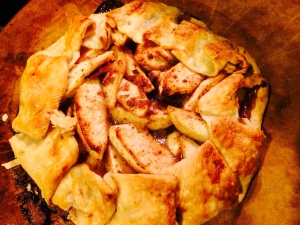 I love the taste of pear and apple mixed together, smothered in layers of sugar, cinnamon, and vanilla, wrapped in a flaky sweet crust. Yummy! So technically we make a páte brisée and wrap it up galette -style. I know it sounds ridiculously complicated, but it's not! What is páte brisée? Actually a really easy and perfectly flaky pastry crust, but a Pilsbury pie crust works just fine! And what is galette -style? Folding up the pastry crust on the sides and leaving the center open. The process is really not that complicated! Pie -ish. So I figured out an easy, totally doable tart recipe!! Here it is!
Apple Pear Tart
Ingredients:
Pâté Brisée
Adapted from Jacques Pepín
1-1/2 cups flour
1-1/2 stick unsalted butter, cold and sliced into 1/2 inch squares
1/2 tsp. salt
1/3 cup ice water
OR
Use Pilsbury refrigerated pie crust – let stand until room temperature.
Filling
2 apples, cored and sliced mixed with lemon juice to prevent browning
2 pears, cored and sliced mixed with lemon juice to prevent browning
1-1/2 tsp. vanilla
1 tbsp. Ground cinnamon
1/2 tbsp. ground nutmeg
1/4 cup whipped honey
2 tbsp. flour
1/3 cup white or light brown sugar
Egg white wash and
Sugar for sprinkling
Directions:
If making the pâté brisée…
Add flour, butter, and salt to
a food processor.
Run for 5 seconds, the butter will still be in pieces.
Add ice water and run for 5 seconds just until dough forms. The butter will still be seen.
Roll dough in a ball.
Roll out into an oval 1/8 inch -1/4 inch thick .
Transfer to a baking sheet and refrigerate 30 mins.
OR
Roll out one Pilsbury Pie crust.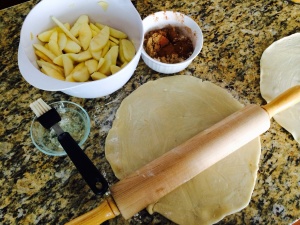 Preheat oven 400 degrees.
Meanwhile, add apples, pears, cinnamon, nutmeg, vanilla, sugar and whipped honey, and flour. Mix to coat.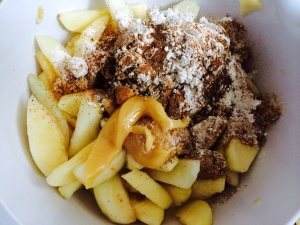 Fan out slices in the center of the pastry dough.
Create a fan pattern or a pattern of your preference.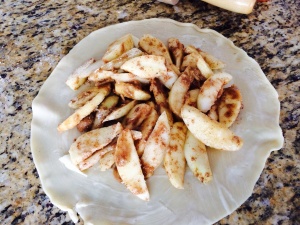 Galette-Style : Fold up the dough 1 inch over the filling and pinch.
Continue folding and pinching until a crust is completely formed in a complete circle.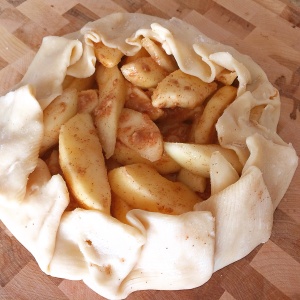 Brush with egg white wash and sprinkle with sugar.
Bake 40-50 minutes or until tart is golden brown and fruit is softened when pierced with a fork.
Top with mascarpone cheese, whipped cream, and/or a scoop of your favorite ice cream!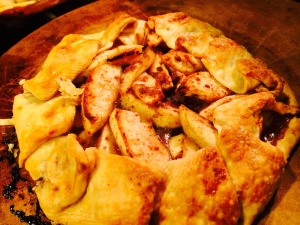 Enjoy!
Ciao!