If you are having company at your home this weekend…They are probably going to end up getting snowed in and spending the weekend!
Here in Western PA, the snow and cold have been relentless. The desire to leave the house is about a zero, and pantry- fridge raiding dinners are what's in! My go-to option is a quick pan pasta!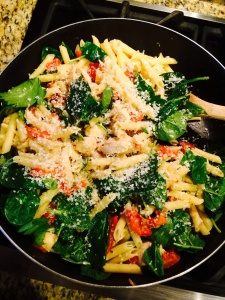 Depending on the what ingredients you have, your pan pasta can consist of rich vegetables, a meat, and definitely some beautiful greens! Simply boil your favorite fork pasta like penne, bow ties, or even rigatoni. Get the other ingredients cooked in a large pan and toss the pasta to coat! Don't forget to top with fresh grated Parmesan and/or Locatelli Romano for a beautiful finish!
Chicken Pancetta Pan Pasta
(Serves 4-6)
Ingredients:
4 tbsp. Olive oil
4 cloves garlic
1/2 cup roasted red pepeprs chopped
3 medium 1-1/2 inch chicken breasts, cubed
3 slices of pancetta, chopped small and fried in a pan until crisp
1 lb. of your favorite fork pasta- penne, bow ties, rigatoni, etc.
3 handfuls of fresh spinach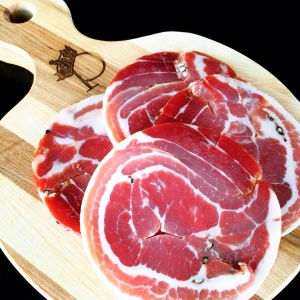 Directions:
Heat oil in a large deep frying pan.
Add garlic and cook until softened and golden.
Add chicken, and cook until no longer pink.
Meanwhile, add pasta to boiling water and cook until al dente, drain and toss in pan.
Mix in roasted red peppers and crisp cooked pancetta.
Add spinach and top with fresh grated Parmesan and Locatelli Romano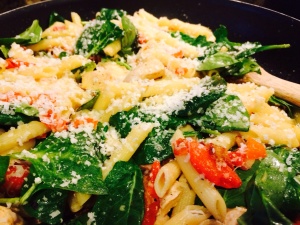 Enjoy!
Ciao!