"I wiggled my nose and… poof! a beautiful roux appeared!" said nobody ever!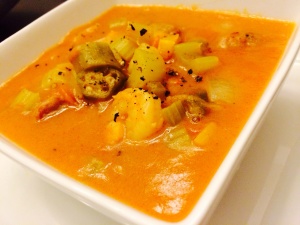 A roux pronounced "roo" is the thickening base used in traditional gumbo recipes. The ultimate test of patience and perseverance, the flour and oil mixture is whisked constantly over about one hour so that the flour doesn't burn. I was terrified to burn it, so I used a super low heat and slowly ramped it up.
Don't do it…
It took about 1-1/2 hours…
Here is what I learned…
When the roux eventually turns a dark chocolate color, the rest of the ingredients are added. After 25 minutes of whisking, I was convinced that the mixture got lighter? At 45 minutes, I realized it was getting dark outside …not my poor roux. My burner was definitely on? Yes! And the moment it started smelling like burnt popcorn ? Yep, I burnt the roux! So I started over. This time I started on a moderate medium temperature instead of extremely low heat. The process went much faster and in about 40 minutes the roux was a dark chocolate color. I am not the most patient person, it probably could have been darker, redder, but it was delicious!
So my initial plan was to add the celery, okra, onions, and bell peppers to a few cans of San Marzano tomatoes. Totally my style. Maybe call it Sicilian Gumbo?? I was inspired to learn something new and to share it with you! How amazing to make a traditional Gumbo at home for your family!
Here is the recipe…
Shrimp and Sausage Gumbo
Makes one large stock pot
Ingredients:

For the Roux,
2 cups flour- 1-1/2 cups vegetable oil or Crisco
1 large onion, chopped
5 celery stalks, chopped
1 14 oz. bag frozen okra
2 green bell peppers (I used orange and yellow)
1/2 lb. hot sausage or andouille sausage (I used hot)
1 lb. raw shrimp, peeled and tails off
3-4 tbsp. olive oil
3 garlic cloves, finely chopped
1 6 oz. can tomato paste
1 32 oz. can diced tomatoes or 4 fresh tomatoes, diced
1 48 oz. can chicken broth
1 12 oz. bottle of your favorite beer
2 tbsp. chile powder
1 tbsp. cayenne pepper
1 tbsp. paprika
1 tsp. celery seed
1 tsp. onion powder
1 tsp. garlic salt
salt/pepper
Directions:

Brown the sausage in a frying pan.
Prepare all chopped vegetables and set aside.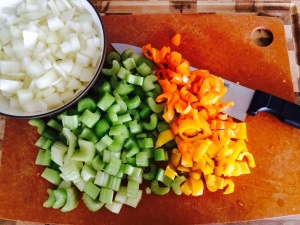 Prepare the roux in a dutch oven or heavy pan or pot by whisking the flour and oil mixture at a medium heat.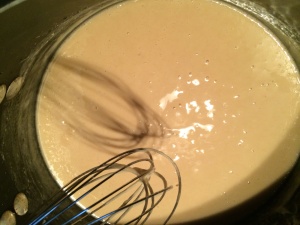 Do Not Stop Whisking- Do Not Walk Away
The roux will get darker. When it is a dark chocolate color, remove from heat.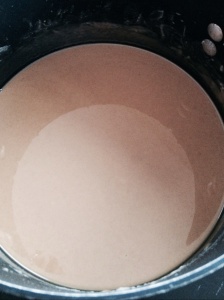 Heat olive oil in the bottom of the stock pot.
Add garlic and onions. Cook until softened.
Add celery, peppers and okra, cook until softened.
Add beer, chicken stock, tomatoes, tomato paste, and spices. Mix well.
Add roux and bring to a boil.
Cook for 1 hour.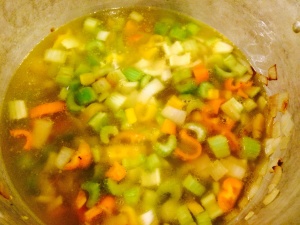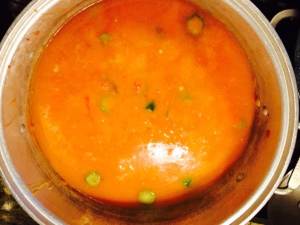 Add sausage and shrimp. Cook until shrimp are cooked, approximately 5-7 minutes or until opaque.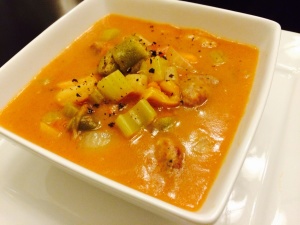 Enjoy!
Ciao!