Super Bowl XLIX is here! The Steelers didn't make it (BOO!) We will definitely watch to see the amazing commercials! Good luck to the Seahawks and the Patriots! These two coastal teams have inspired me to create a Seafood Super Bowl Panini, Pittsburgh- style loaded with Old Bay Fries!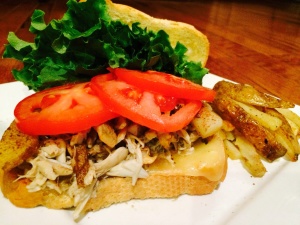 Seafood Panini
(Makes 6 panini sandwiches)
Ingredients:
1 loaf Italian bread, sliced into 12 thick slices
1 lb. package Pana Pesca clam meat and juice
1 lb. jumbo lump crab meat
3 tbsp. olive oil
2 tbsp. Worcestershire sauce
3 cloves garlic, finely chopped
12 slices of fontina cheese
2 tbsp. butter
Old Bay Seasoning
Lettuce, Tomato
Directions:
Heat olive oil in a pan and add garlic until golden brown.
Add clam and crab meat, worcestershire and heat.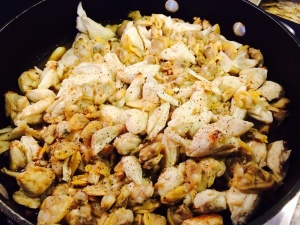 Meanwhile, start the fries. See Recipe Below.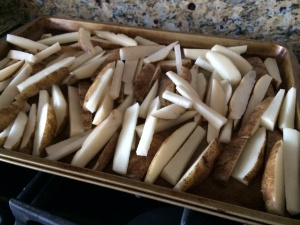 Butter both sides of bread slices. Grill and flip until golden brown.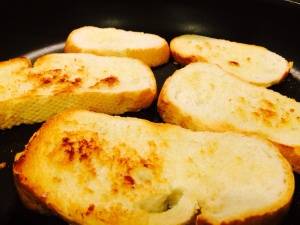 Add 2 slices of fontina cheese on 6 slices of bread and let it bubble and melt.
Top with Old Bay Fries- see recipe below- seafood mixture, lettuce, tomato, and a few shakes of Old Bay seasoning.

Old Bay Fries
Ingredients:
Potatoes –
Old Bay Seasoning
3 tbsp. Olive Oil
Directions:
Oil if using a fryer
Preheat oven to 450 degrees.
Chop 5 potatoes into fries (1/4 inch thick).
Place them into bowl with water for 10 minutes to extract the starch.
Boil a pot of water and add potato fries.
Cook until tender when pierced with a fork.
Drain fries, place in one layer on a cookie sheet.
Place into freezer 20 minutes or until frozen.
Deep fry them or bake in the oven.
If you fry them,
season with Old Bay.
If you bake them,
drizzle with olive oil and season with Old Bay before baking.
Bake for 15-20 minutes until edges are crispy and browned.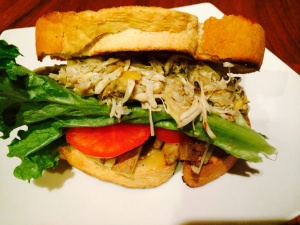 Enjoy the game, the commercials, and the food!!
Ciao!