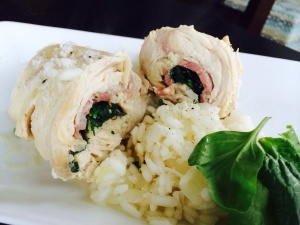 Comfort Food, Football, Family, Friends, Quality Time…It must be Sunday! Make a beautiful chicken dish served over risotto! This recipe will wow your guests – because it looks totally complicated- but is surprisingly easy!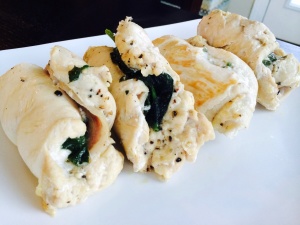 Traditionally, Saltimbocca is veal rolled with a thinly sliced prosciutto. I prepared a variation using chicken and pancetta. The Italian Saltimbocca translates "jump in your mouth," and it will! This dish is soooooo delicious!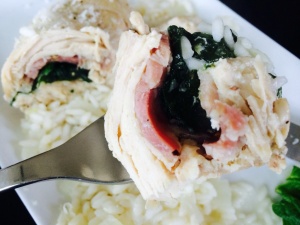 Chicken Saltimbocca
Makes 6 servings
Ingredients:
3 1-1/2 inch thick chicken breasts, split and pounded.
6 slices of pancetta, sliced at your thickness preference
2 cups of fresh spinach (or 1 package of frozen, thawed)
1/2 tbsp. Garlic salt , or 1 clove finely chopped
1/2 cup freshly grated Locatelli Romano cheese
4 tbsp. Olive oil
2 cups chicken broth
6 toothpicks +
Salt and pepper to taste
Directions:
Lay chicken cutlets on a flat work surface.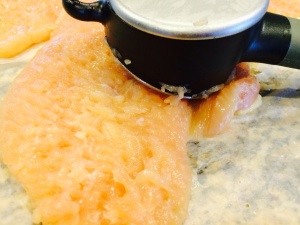 Salt and pepper each to taste. (A few shakes)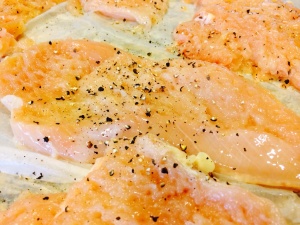 Add the sliced pancetta on top of each chicken cutlet.
In a medium mixing bowl, mix the spinach, 1 tbsp. Olive oil, salt, pepper, and 1 clove of finely chopped garlic or 1 tsp. garlic salt.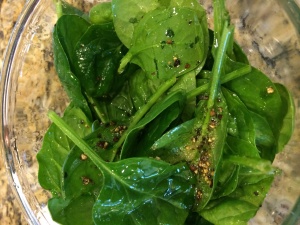 Top each slice of pancetta with 4-5 coated spinach leaves.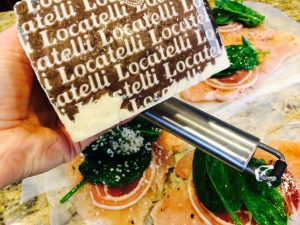 Sprinkle each layered cutlet with fresh grated Locatelli cheese.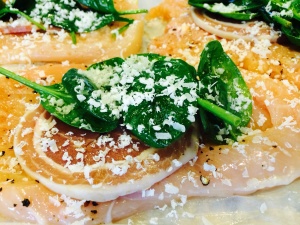 Carefully roll each cutlet, starting at one end roll it up enclosing the layered ingredients.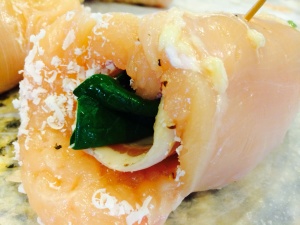 Secure with a toothpick. (Or 2)
Add 3 tbsp. Olive oil to a large, deep frying pan and add chicken rolls.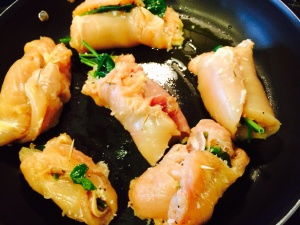 Brown each side of the rolls, 2 minutes per side.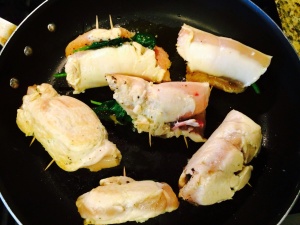 Add 2 cups of chicken stock, bring to a boil, and cover with a lid. Cook 8-10 minutes or just until the juices run clear. Be careful not to overcook!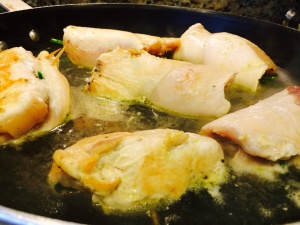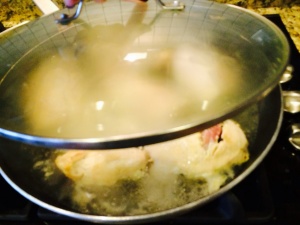 Remove rolls from the pan, remove toothpicks, and serve with your favorite sides!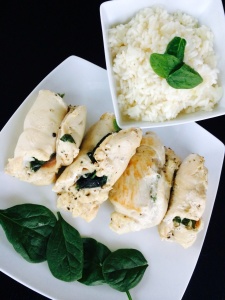 I served this Chicken Saltimbocca over a lemon garlic and onion risotto! It was soooooo delicious!!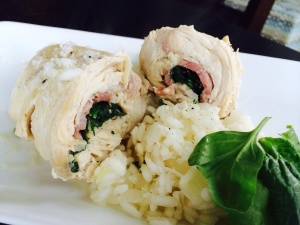 Enjoy!
Ciao!