Baby it's cold outside!! We just cannot get warm here in Western PA with temps dipping into the teens and single digits. Winter comfort food to the rescue!
Why not a classic mac and cheese? Imagine creamy melted fontina covered noodles, a crunchy Parmesan bread crumb topping, all flavorfully finished with a hidden kick of Sriracha, cayenne pepper, and paprika.
This quick and easy recipe is the perfect dinner or side dish! Surprise your family with a homemade classic!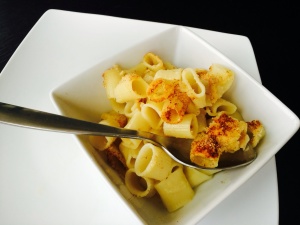 Fontina Mac and Cheese
Makes 10-12 side servings or 6 dinner portions(9X13baking dish)
Ingredients:
1 lb. of your favorite shells or macaroni noodles
1/2 cup – 1 stick of butter
1/2 cup flour
1/4 cup Sriracha sauce
1/2 tbsp. Cayenne pepper
Salt/pepper
2 cups whole milk
1 cup heavy cream
4 cups fontina cheese
1 cup Parmesan cheese + 1 cup for topping
2 cups plain Panko breadcrumbs
1 tbsp. Paprika
Directions:
Preheat oven to 350 degrees.
In a medium saucepan, melt butter and whisk in flour to make a roux. (Thickening agent when making a sauce)
Add sriracha, cayenne pepper, salt and pepper.
Do not stop whisking. When thick and well mixed, add milk and cream.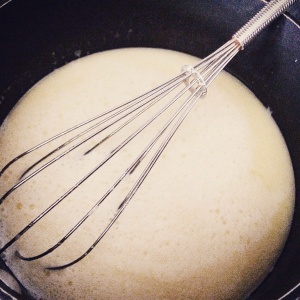 Continuously whisk 10-15 more minutes – it will bubble and become thicker.
Remove from heat and add fontina cheese and 1 cup of Parmesan cheese.
Mix well and blend until smooth.
Meanwhile, boil pasta until al dente and drain.
Mix cooked pasta with the cheese sauce.
Pour cheese noodles into a deep baking dish.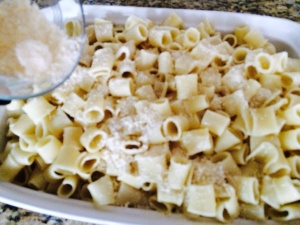 Cover the cheese noodles with the breadcrumbs and an extra 1 cup Parmesan cheese. Sprinkle with paprika.
Cover the baking dish with aluminum foil and bake 30 minutes.
Remove foil and bake for an additional 15-30 minutes or until golden brown.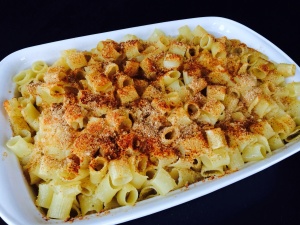 Enjoy!
Ciao!