How about your Second Breakfast?
If you visit the Pittsburgh Public Market you can!
Head Chef and owner Thomas Wood started his food stand at the Pittsburgh Public Market in the Strip District in mid-November.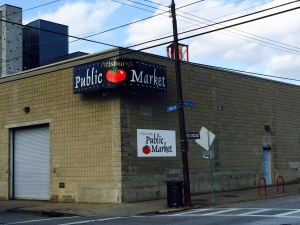 Wood sees the Public Market as an incubator for start-ups to get off the ground, tweak their business model, and find success. With help from the available Market Kitchen, Wood was able to launch his dream venture named after "Lord of the Rings" and "The Hobbit"'s Second Breakfast.
Wood keeps his ingredients organic, fresh, and local. Many come from other Pittsburgh Public Market vendors, such as Franklin Farms Flour and East End Brewing Company's beer. Beer for breakfast? As an ingredient, of course!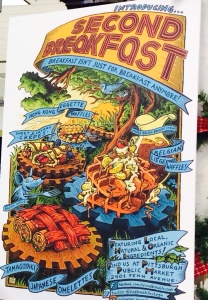 I ordered Second Breakfast's
hugely popular Chicken and Waffles. Wood explained his shredded chicken cooking method. First, he renders the fat from Garrett Farms bacon. Then, browns the chicken in the bacon fat, deglazes with East End Brewing Company's Monkey Girl beer (when not in season Monkey Boy will do), and slow cooks for three hours. Yummmmmm, and that's just the chicken. Wood prepared a beautiful, homemade waffle while we chatted, and topped it all off with the sweetest maple syrup!
I took two very lady-like-ish bites and discussed the fabulous flavors and textures of the food. Within minutes of driving down Penn Avenue, I opened the to-go box, picked up the syrup and shredded chicken covered waffle with my hands, rolled it up, and devoured the rest. I seriously felt like Buddy from the movie "Elf," -sticky syrup all over my face, my hands, my steering wheel, and the front of my jacket. Ha!
Got me, Thom! I had my first ever Second Breakfast and I loved it!!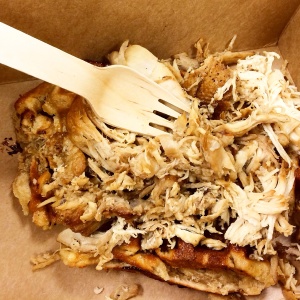 Stop and visit the vendors at the Pittsburgh Public Market and see Thom for your Second Breakfast. Have your own public market vendor idea? Ask some questions!
Enjoy!
Ciao!
Pittsburgh Public Market
2401 Penn Avenue
Pittsburgh, PA 15222
Hours:
Wednesday 8-4
Thursday 8-7
Friday 8-4
Saturday 9-5
Sunday 8-4