Do you ever need one more small side or snack to put out when company comes over? Like my Italian grandma, I always need one more dish! There is never enough food! Also the perfect homemade host/hostess gift, this toffee is delicious and can be tailored for any occasion! I added peanuts and a festive red and white peppermint topping.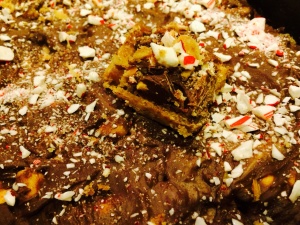 You can easily add shaved almonds or even a marshmallow layer to make a s'mores version.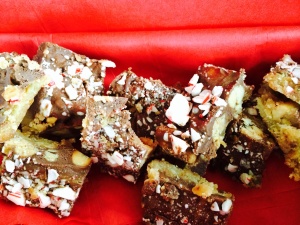 Here is a basic toffee recipe from Pinch of Yum!
And this is how I make toffee:
Ingredients:
1 sleeve saltine crackers
1 cup butter
1 cup brown sugar
1/2 cup peanut butter
1 cup peanuts
1 cup chocolate chips
1 cup unwrapped Hershey's kisses
3 candy canes, crushed for festive topping
Preheat oven to 400 degrees.
Layer a nonstick baking dish with saltine crackers.
Melt 1 cup brown sugar and 1 cup butter in a pan. Let it rapidly boil for 3-5 minutes. After it thickens, pour it over the crackers.
Bake for 5 minutes.
Add little spoons of peanut butter.
Bake for 1 minute. Spread peanut butter with a spatula and cover with 1 cup peanuts.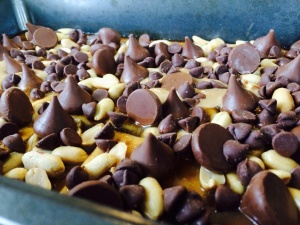 Add 1 cup chocolate chips and 1 cup of Hershey's kisses.
Bake for 1 minute. Spread chocolate with a spatula.
Top with 3 crushed candy canes.
Freeze for 1-2 hours.
Let it warm up and break apart!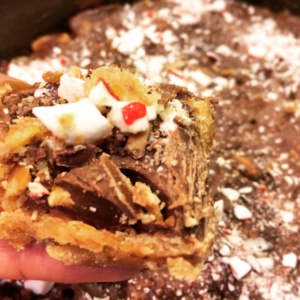 Enjoy!
Ciao!