I tried a new side dish this Thanksgiving!
I still served the roasted marshmallow candied sweet potato casserole…
And roasted garlic mashed potatoes…
BUT with a golden bread crumb crust, creamy cheesy bites, and a Sriracha kick, the broccoli and cauliflower au gratin was the crowd favorite!!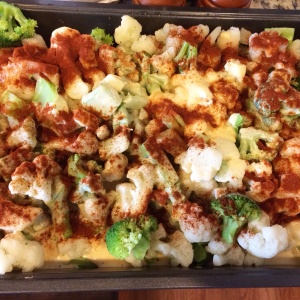 I am a huge fontina cheese fan because of its creamy meltability and mild cheese flavor. Any chance I get to create a creamy, cheesy dish, fontina is my first choice!
We like a little bite to our food so adding a few squeezes of Sriracha added a slight kick without an overwhelming hot sauce presence.
I am making this side dish again for Christmas! You should try it! It's quick and easy.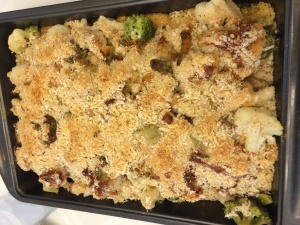 Broccoli and Cauliflower Fontina Au Gratin
Ingredients:
2- 1 lb. bags frozen cauliflower florets or 2 lbs. fresh cauliflower, trimmed and chopped
1- 1 lb. bag frozen broccoli florets or 1 lb. fresh broccoli, trimmed and chopped
1 cup grated fontina cheese
1 cup whole milk
1 cup heavy cream
2 tbsp. Olive oil and a little to coat the baking dish
3-5 squeezes of Sriracha depending on desired heat level (approx. 2 tbsp.)
1 Tbsp. Paprika
1 cup Panko Breadcrumbs
1 cup fresh grated Parmesan Cheese,1/2 cup to melt and 1/2 cup for topping.
Directions:
Boil cauliflower in a stock pot
of rapidly boiling water until tender approximately 10 minutes.
Remove cauliflower from water with a slotted spoon.
Add broccoli and boil until tender approximately 4-5 minutes.
Drain and transfer broccoli and cauliflower to an olive oil coated baking dish.
In a saucepan, add milk and cream and heat on medium flame.
Add fontina cheese and 1/2 cup Parmesan cheese and whisk while heating. Whisk continuously until melted, creamy, and smooth.
Remove from heat and pour over broccoli and cauliflower in the baking dish.
Squeeze Sriracha on top in a zig zag motion.
In a small bowl, mix together bread crumbs, 1 tbsp. Olive Oil, paprika, and 1/2 cup grated Parmesan cheese.
Sprinkle evenly over the vegetables.
Bake 30-40 minutes until crumbs are golden brown and the casserole is bubbling.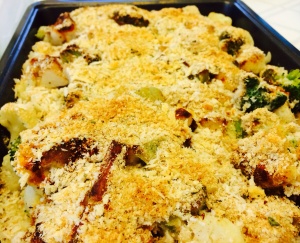 Enjoy!
Ciao!