I would like to thank all of you for supporting Parmesan Princess! This first 10 months has been awesome and more exciting than I could have ever imagined! Hopefully, you are enjoying my articles and my recipes while exploring all that Pittsburgh has to offer!
This post is for you! A holiday giveaway (valued over $400!!!) to share a few of my favorite things and to help support some
of my favorite small businesses!!
Creative, unique, and totally awesome Pittsburgh products and services are constantly being nationally recognized!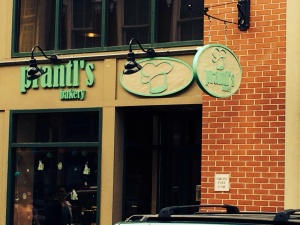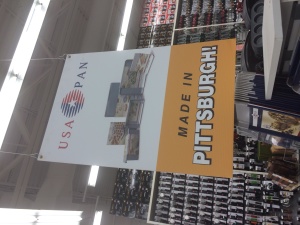 We are so fortunate to have Pittsburghers helping Pittsburghers start new businesses in the form of Alpha Lab, Idea Foundry, and most recently, Thrill Mill.
Small boutique shops are boooming in urban renewal neighborhoods, like Lawrenceville, offering Pittsburghers a Soho, NY feel.
Shop local and suppport small business owners in your city!
Let's start in the Strip District- The heart and soul of Pittsburgh's ethnic fine foods and my happy place in this world. My first stop is always Sam Patti's La Prima Espresso, Co. for a beautiful cup of coffee in the 21st Street Italian Espresso bar. Brewed from the finest beans, La Prima Espresso Co.'s Coffee is the best! Many Pittsburgh restaurants and businesses serve La Prima's finest!
Sam wants you to try his Christmas blend!! Yes, for you!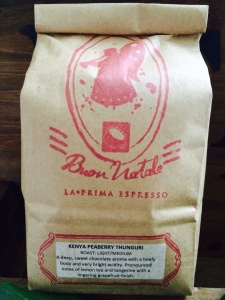 La Prima Espresso Co. The Strip District
205 21st St.
Pittsburgh, PA 15222
412-281-1922
Monday-Staurday 6am-4pm
Sunday 8am-2pm
Also located in Pittsburgh's Strip District is my favorite Italian grocery store Pennsylvania Macaroni Company, where you will find fresh imported products like deli meats, olives, and the finest cheeses! Parmesan Reggiano, Auricchio Provolone, and Parrano are a few of my favorites!
Enjoy an Italian Cheese Sampler box from Pennsylvania Macaroni Company this Holiday Season! Yes, for you!!

Pennsylvania Macaroni Company
2010 Penn Ave.
Pittsburgh, PA
412-227-1983
Hours: Monday-Saturday 6:30am-4:30pm
Sunday 9:30am-2:30pm
T's Uphostelry Studio on Butler Street in Lawrenceville has been around before the neighborhood's revitalization boom. Cindy Kaufman Leckenby tells me she opened the shop in 1998 is always adding to her product line of fine upholstery, fabric, custom window coverings and accessories. Cindy's vintage aprons caught my eye! I knew one had to be included in this holiday giveaway! For you!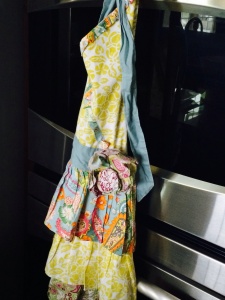 T's upholstery Studio
3611 Butler Street
Pittsburgh, PA 15201
412-687-1988
The epitomy of a statement piece- I am in love with Sashaneckware. Pittsburgh's Sara McClelland needed a necklace for a party and decided to make her own. I met Sara and her fabulous necklaces at Pittsburgh's Handmade Arcade held at the Convention Center, but you can visit her Etsy shop anytime. I had never seen anything like them and I instantly had to have one! And one for you, too! Or gentlemen, give it as a gift!! She will love you forever!
Mine is Yellow Yarns + Fuschia Matte Quartz Beaded Statement Necklace
And here is yours:
Tri-color Yarns + Lucite Beaded Necklace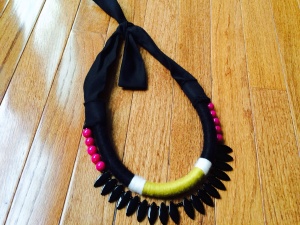 A shiny, rare diamond in the South Hills is Todd and Angela McMaster's Oil and Vinegar store located in the South Hills Village Mall! With over 50 oils and vinegars on tap, as well as specialty items from the seven worlds- starters & appetizers, herbs and spices, pastas, sweet sensations, sauces and dressings, and their NEW Mediterranean items- Oil and Vinegar is a must visit!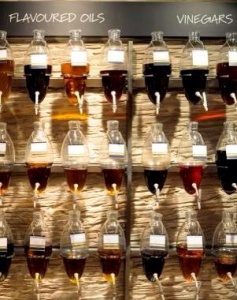 Oil and Vinegar is giving you Mango Pulp Vinegar, Strawberry Vinegar, Garlic EVOO, and Bonsecco! All on tap in the store!!
Also included is Italian fresh pasta, Cape Chili Chutney, a truffle salsa, a coffee paste:sweet Sicilian cream with coffee, mixed Provençal olives in EVOO, and 2 dipper mixes!!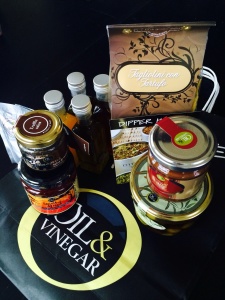 Oil and Vinegar
South Hills Village Mall
301 South Hills Village
Bethel Park, PA 15241
412-833-EVOO (3866)
Hours: Monday-Saturday 10am-9pm
Sunday: 12pm-6pm
One day I was shopping at Bed Bath and Beyond and met a representative from USA Pans pushing muffin tins and jelly roll sheets that were locally made in Moon Township. I bought a muffin pan, some different sized pans and got home and realized I already owned these fabulous pans! These were my favorites that easily wiped clean and I had owned them for years! You need these, too!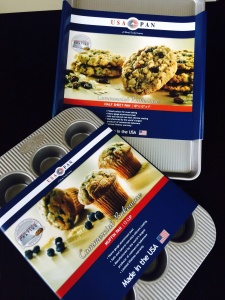 USA Pans are available at Macy's, Bed Bath and Beyond, and many other of your favorite stores!
As a tribute to our fabulous Pittsburgh Penguins I had to add my favorite cutting board from Labell Cutting Boards!! Produced in Quebec, Canada, Labell's professional Canadian maple and cherry hardwood cutting boards and butcher blocks can be found in some of the most prestigious kitchens in the world! The best part…they can be personalized with a laser engraved logo!
Yours!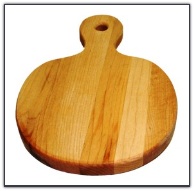 Thank You to all of the small business owners who gladly donated these items for one Parmesan Princess follower to enjoy!!
Enter below! Winner drawn at midnight EST Christmas Eve!! Good luck and Thank you Thank you Thank you!
All items are MY favorite things. I was not compensated in any way for including these items in my post. All items were donated by the companies for you! Opinions are 100% mine! Enjoy!!
Ciao!