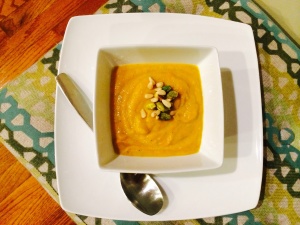 More often than not, the winter days in Pittsburgh are gloomy, cold, and dark. However, we are lucky to have the beauty of all four seasons and even more lucky to have all of the beautiful seasonal food varieties that go along with them!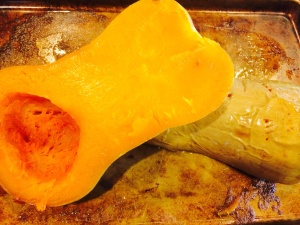 In the winter our menus consist of comfortable, warm-bellied foods like casseroles, pastas, and my favorite, hot soups! Some soups are a beautiful meal accompaniment and some are simply dinner!
Never a fan of thick, blended soups, I found a wintery, flavorful combination that I love and I hope you do, too!
Roasted Butternut Squash Soup
Ingredients:
1- medium Butternut squash
1 cup chopped kale
1/2 cup chopped carrots
2 cloves of garlic, finely chopped
1/3 cup grated Parmesan cheese
2 cups of whole milk
1/2 tbsp. Cumin
1/2 tbsp. Onion powder
Salt/pepper
Garnish:
Pistachios
Pinenuts
Directions:
Cut butternut squash in half vertically and scoop out the seeds.
Roast cut side down for 20-30 minutes at 350 degrees until softened. Check it with a fork 😉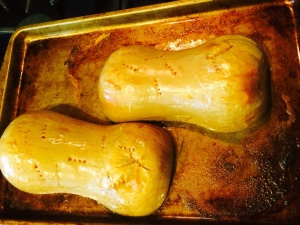 Using a spoon scoop roasted squash from skin.
Blend all ingredients except the milk and Parmesan cheese in a food processor or Ninja. (I used my Ninja)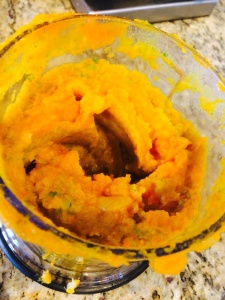 Heat the mixture in a medium sauce pan on low/medium heat.
Stir continuously and be careful not to burn it, just heat it.
Slowly add the milk 1/4 cup at a time or until the soup reaches the desired consistency.
Continue to stir while heating and add the Parmesan cheese a little at a time until melted and blended.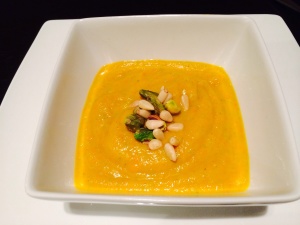 Remove pistachios from their shells and crush with pinenuts for a beautiful garnish!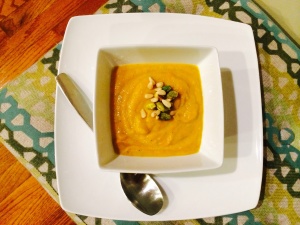 Garnish, grab a spoon, and enjoy! Keep Warm!
Ciao!