As I walked down the staircase I could see the twinkling lights. Candles flickered on the glass-top wooden barrel tables and the smell of grapes filled the air. The band was doing a sound check and I actually got butterflies! I couldn't help but think to myself- I need to have a party here- it's so magical! How have I never ever been here before?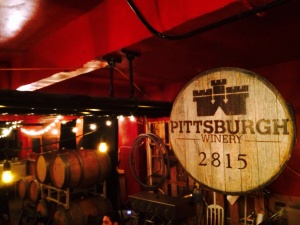 Pittsburgh Winery was born when owner and Buzz Poet's bass player Tim Gaber's wine hobby got serious. "I was making more and more wine, we [the Buzz Poets] stopped touring and it seemed like the right time," said Gaber. Making wine with friends in the cellar of an old firehouse, Gaber networked with California vineyard owners and winemakers to prepare to launch his own line at 2815 Penn Ave. in the Strip District, Pittsburgh Winery.
Pittsburgh Winery credits the best grapes from the best vineyards as being responsible for their high quality, incredibly elegant and smooth wine offerings. My favorite on this visit was the California red blend, but I can't wait to try them all!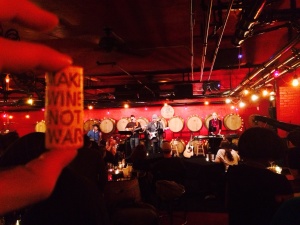 Gaber brought his love of music to the winery. Bands, musical talent, and entertainment groups take the stage as the evening entertainment at the winery. With no windows and an incredible sound space, Gaber has equipped the winery with a sound and recording panel. Please check out the website for upcoming events. Get your tickets!! They sell out fast!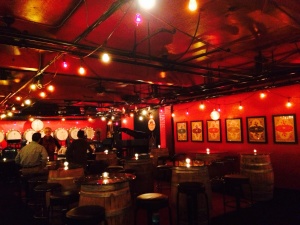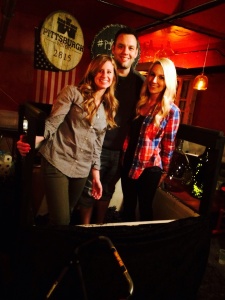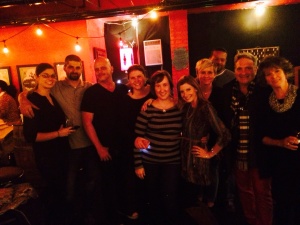 For their one and two year anniversaries, Pittsburgh Winery has held grape stomps! What an awesome opportunity and a once in a lifetime experience to stomp grapes and sample the wines! Gaber called Matt Cavanaugh owner and chef at Lawrenceville hotspot Matteo's for the occasion. Matteo's was also celebrating their two year anniversary. I tagged along behind the scenes with Matteo's to see what was cooking.
As you can see in the photo above, our crew had a great time!
Sweet Thai chili wings, pumpkin ravioli, chicken sliders, and Matt's wife Andrea's famous rum cake were just a few of the delicious menu items.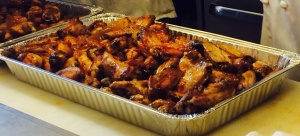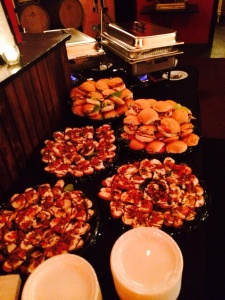 Matteo's food is delicious whether it is catered or served as individual dinners. As Winter 2015 Pittsburgh Restaurant Week approaches, Cavanaugh has rolled out some new winter offerings as well as old favorites!
Like the Lobster Mac and Cheese! Yes, that is a Lobster tail…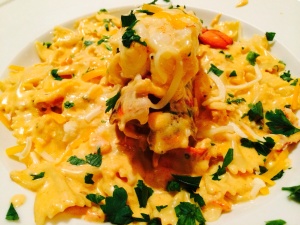 Matteo's winter weather tender and flavorful lamb chops will warm you up!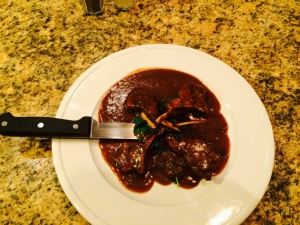 Flavorful Dumplings…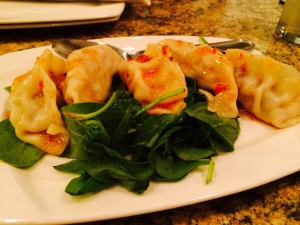 Caramelized Brussels Sprouts in a balsamic reduction with just enough smoky char to warm you up!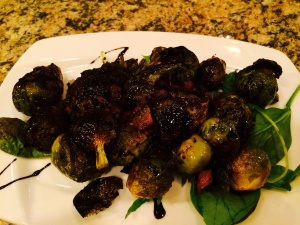 And my winter warm up pick, the linguini clams in a red sauce! I ate the entire bowl! Seriously, ask them, I did!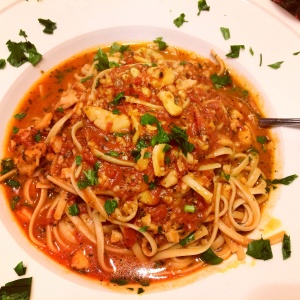 Hopefully, Pittsburgh Winery will celebrate their 3rd anniversary with another grape stomp and more delicious food from Matteo's!
Wishing Pittsburgh Winery and Matteo's the best of luck for another successful year! Pittsburgh is lucky to have you!
Ciao!