Can a crumb cake be too crumbly? I guess you can add more or less depending on your mood! I love the golden brown almost toasted crumbs, so mine is very crumbly.
For a fall flavor, I added apples to this crumb cake (not pumpkin!) and topped with a drizzle of Hershey's Caramel Topping! Add your favorite flavor to the basic crumb cake recipe.
You can add pears, plums, cranberries, etc. I have cooked down the fruit with spices first and then added it to the cake batter, but it tastes the same. The texture is more of a soft jellied apple if you cook it first. It is quicker and easier to skip this step.
An apple crumb cake is a great non-pumpkin addition to your Thanksgiving dessert table! Enjoy it with a cup of hot coffee and Pumpkin Spice creamer of course!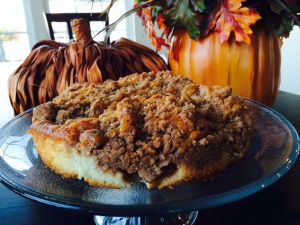 Caramel Apple Crumb Cake
(Makes 1- 9inch round cake)
Ingredients:
Cake:
1 cup of light brown sugar
2 cups flour
2 large eggs
1 tsp. baking soda
2 tsp. cinnamon
1 stick unsalted butter, softened
3/4 cup sour cream
2 cups apples, peeled and chopped
1 tsp. vanilla extract
Crumble Topping:
4 tbsp. Unsalted butter, softened
1/2 cup light brown sugar
1/2 cup flour
1 tsp. cinnamon
1/2 tsp. ground ginger
1/2 tsp. ground cloves
Topping:
Hershey's Caramel Topping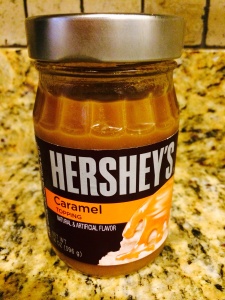 Directions:
Preheat oven to 350 degrees.
Grease a 9 inch round cake pan with Crisco and dust with flour.
Cream butter and brown sugar with mixer until light and fluffy.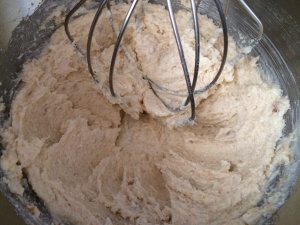 Add eggs one at a time and beat.
In a separate bowl, mix together flour, baking soda, and cinnamon.
Add the dry ingredients to the wet and mix on low.
Add sour cream and vanilla, mix well.
Fold in apples with a spatula.
Pour mixture into greased pan.
Mix crumble topping ingredients in a bowl until it starts to clump and look like heavy crumbs.
Sprinkle the topping over the cake batter.
Bake 35-45 minutes until golden brown and a toothpick test comes out clean.
Let it cool and drizzle Hershey's caramel topping on top!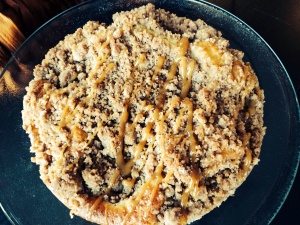 Enjoy!
Ciao!