Brussels sprouts tossed with an olive oil, brown sugar combo produce a delicious, caramelized vegetable side dish. I have been adding bacon or pancetta to my normal recipe to achieve a smokey flavor. The charred edges of the sprouts coupled with the crispness and saltiness of the meat creates a deeper flavor than plain roasted sprouts.  What a beautiful addition to your Thanksgiving table!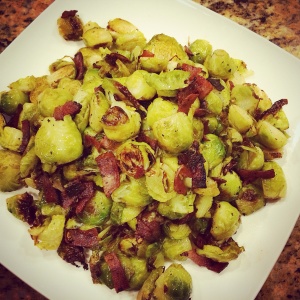 Roasted Garlic Brussels Sprouts
With Bacon or Pancetta
Ingredients:
1-1/2 lbs. brussels sprouts, cleaned and halved
4 strips bacon or pancetta, chopped into 1/2 inch cubes
2 tbsp. Olive oil
2 cloves garlic, oven roasted in foil until softened and then finely chopped.
2 tbsp. cumin
2 tbsp. brown sugar
1/2 lemon, to squeeze for juice
Fresh grated Parmesan
Salt and pepper
Directions:
Preheat oven to 425 degrees.
Add chopped bacon or pancetta to a frying pan and cook until crispy.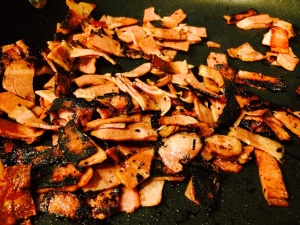 In the same pan, add roasted garlic and cook for a few minutes.
Add olive oil, cumin, and brown sugar.
Completely coat sprouts with the pan mixture.
Place brussels sprouts on a foil lined cookie sheet.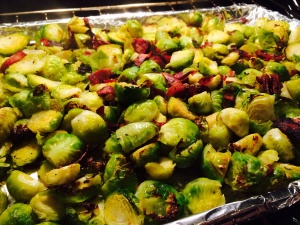 Squeeze lemon and sprinkle with salt and pepper .
Cook for 16-20 minutes, until softened but firm. (Test by piercing with a fork.)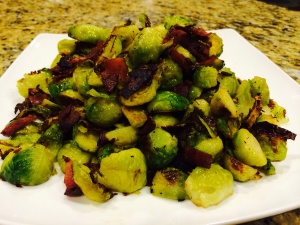 Always top with fresh grated Parmesan! Enjoy!
Ciao!