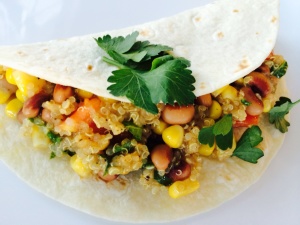 Because our Sunday dinners are usually packed with pasta, sausage and meatballs, and desserts, a healthy Meatless Monday is always welcomed by all. Very often it comes in the form of Mexican cuisine.
Beans, vegetables, quinoa or rice, seasoned, cooked, and wrapped in a small tortilla. The tortilla is portion control at its finest. The ingredients are a healthy start to the week ahead.
The Quinoa and BlackEyed pea tacos can be filled with black beans, a rice, or any of your favorite taco veggies. Experiment! Use the recipe as a guide and make a healthy and delicious meal! Enjoy!
Quinoa and BlackEyed Pea Tacos
Makes 10 tacos
Ingredients:
1/2 cup uncooked rinsed quinoa
1 cup water
1 tbsp. Olive oil
2 cloves garlic, pressed
1 small onion finely chopped
1 cup corn
1 cup blackeyed peas
2 tbsp. Taco seasoning
2 tsp. chili powder
1 tsp. ground cumin
1 medium tomato, chopped
1 cup curly kale, chopped
Salt/ Pepper to taste
Sriracha (optional)
10 tortilla shells
Directions:
Warm oil in a medium deep frying pan.
Add garlic and onions and cook until softened.
Meanwhile add 1/2 cup quinoa and 1 cup water to a saucepan. Bring to a boil and cook on low until water is absorbed.
Add all ingredients to frying pan except kale and tomato and stir.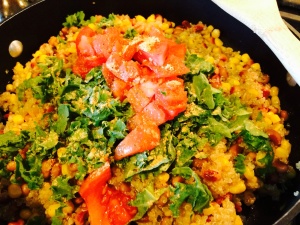 Cook until heated through approximately 5 minutes.
Add tomatoes and kale and stir.
Serve in warmed tortilla shells. For a spicy kick add Sriracha!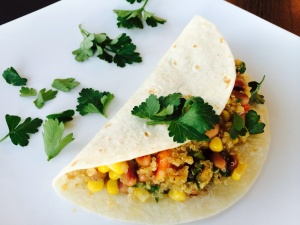 Ciao!